SPEEGO DLX Passenger E-Rickshaw Price in India, Specifications, Review, Features, Images
Hello, people! And welcome to our site, and I hope you are doing well, are you searching online for an article in which you will find the SPEEGO DLX Passenger E-Rickshaw Price, Specifications?
If yes and you are doing so, then your search will end you here. You will explore more things about these tractors in this article of mine.
Because here in this article I will be sharing all kinds of information on SPEEGO DLX Passenger E-Rickshaw like prices, Specifications, performance, and more. Let's get started with it.
This model SPEEGO DLX Passenger E-Rickshaw is designed on the theme of sports ride which provides sporty looks to the model.
Lights are fitted in front Leg guard like in bikes and with lowest cutting radius, provides it a premium top quality look. It is defined to rule the roads.
You May Also Like To Check:
SPEEGO DLX Passenger E-Rickshaw Price in India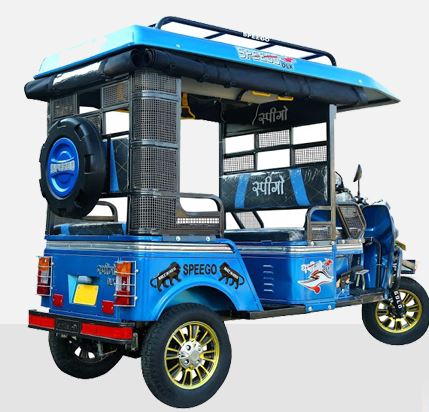 Price: Rs 85,000
SPEEGO DLX Passenger E-Rickshaw Features
Double battery safety lock

Crome Bidding & Curved Edges

Front Leg Guard & Butterfly

Double Pipe Side Grill

Alloy Rim & Heavy Tyre

Front Hydrallic Shocker

Back Shocker

Digital Meter

Music System

Central locking Remote

New Look Grill & Roof Carrier

Big Driver Seat With Crome Looks
SPEEGO DLX Passenger Electric Rickshaw Specifications
SPECIFICATIONS

Dimensions

2780x1000x1760

Seating Capacity

4+1+(40 kg Luggage)

Tyre Size

90x90x12, 3.75×12

Battery Type

Exide/JPM/Trontek/Altima

Electricity Consumption/Charge

5-6 Unit

Charging Time

8-10 Hours

Range Per Charge

*90 km & Above

Motor Max Power

1140 W & 48 V (Input)

Motor Type

BLDC

Max Speed

25 Km / hr

Controller

24 Tubes 50 Amp.

Charger

10-15 Amp. Copper

Front Powerful Shocker

Helical Spring with dampener with




hydraulic telescopic, shock absorber

Rear Suspension

Leaf Spring Carriage Spring




with Rear Shocker

Brakes

Drum brakes, actuated internal,




Expanding shoe type, Combined

Steering

Handle bar type

System Voltage

12V (DC)

Performance

Excellent

Rim

Alloy Wheel / Steel Rim
NEW AND IMPROVED SKUDO DESIGN

Features

Steel Look Bidding, Curved Edges, Steel Grills, Leg Guard & Carrier.

Advantage

Gives Premium Look to Design matching International Stds.

Benefit

High Quality Stylish Look.
DOUBLE LOCKING SYSTEM

Features

Battery Box having Double Layer Lock.

Advantage

Save Batteries from Being Stolen.

Benefit

Improves Security for E-Rickshaw Puller.
DOUBLE REAR SUSPENSION SYSTEM

Features

Have Kamani as well as Shockers at Rear Axle.

Advantage

Reduces Jerks while Riding & Add Comfort to Passenger.

Benefit

Gives Vehicle a Long and Durable Life.
That was all about the SPEEGO DLX Passenger E-Rickshaw, I hope you like it, But if you have any questions about this article, then please comment below in the comment box, I will solve your problem solution as soon and if you like it so please share with your friends and on social media, Thanks for visiting our site and stay tuned with me for more stuff like. Keep Smile, Take care your family.
For More Information About SPEEGO DLX Passenger E-Rickshaw Please contact Us on below Phone Number:
+91-9899995568, +91-9811251132