JEZZA Super J1000 Price in India, Specifications, Features, Images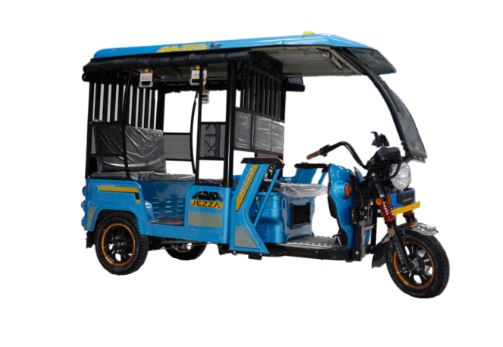 Guys!! Are you searching for an article in which you find the JEZZA Super J1000 Electric Rickshaw Price In India, Technical specifications, Key features, and images?
Then let me tell you are at the right place cause here in this article, of mine, I will tell you everything you need to know about the JEZZA Motors Super J1000 Electric Rickshaw,
ok, my friends, no more talks, let's start it.
Battery Operated Electric Rickshaws or E-Rickshaws is one of the favored models of transport for passengers.
They are getting popular as they are alternative to petrol, diesel, or CNG driven vehicles.
Hence are eco-friendly and do not add to the carbon dioxide level in the air. The cost of commuting is comparably less and comfortable.
You May Also Like to Check
JEZZA Motors J1000 Electric Rickshaw
E-Tuk USA Classic Electric Rickshaw
JEZZA Super J1000 Electric Rickshaw Price in India
Price: Rs 1.1 Lakh
JEZZA Super J1000 Electric Rickshaw Special Features
E-Rickshaw Mileage – 100 km
Charging Duration – 8 hours

Powerful Reflector Headlight.

SMPS AXIOM 15 AMP Charger.

Alloy Wheels.

Bigger in Size (2790*990*1780).

Powerful Battery for long run.

BLDC 1000 Watt Motor.
JEZZA Super J1000 Electric Rickshaw Added Features
730 m.m. Front hydraulic Suspension

Fire Safety Spray Installed

Paper Holder

Cabin Lights

Foot Mats

Spare wheel with Cover

F.M/Mp3 Music Player

USB Mobile Charger Horn with Rain Protector

 Full Rain Curtains

Long Life Tyre

Water Bottle Holder

Power Reflector Headlight

Front Windshield system with Rain Wipers

First Aid Kit

Tool Kit with jack
That was all about the JEZZA Super J1000 Electric Rickshaw, I hope you like it, but if you have any questions about this article, then please comment below in the comment box. I will solve your problem solution as soon, and if you like it so, please share it with your friends and on social media, Thanks for visiting our site, and stay tuned with me for more stuff like this. Keep Smile. Take care of your family.
For More Information About JEZZA Super J1000 Electric Rickshaw Please contact Us on below Phone Number:
Phone: 8697 054 050
Phone: 8017 750 000
toll-free 1800 120 2250
You May Also Like to Check
Terra Motors Y4A Samurai E-Rickshaw
E-Rickshaw Price List in India
SPEEGO DLX Passenger E-Rickshaw
SPEEGO Morni DLX Passenger E-Rickshaw
SPEEGO DLX + Passenger E-Rickshaw
SPEEGO Morni DLX + Passenger E-Rickshaw