Escorts Digmax – II (4 WD) Backhoe Loader Earthmoving Equipment Price, Specification, Review, Features
This post all about the Escorts Backhoe Loader Digmax – II (4 WD) Earthmoving Equipment information like Digmax 2 price in India, Specifications, Key Features, and Images. I hope it is helpful for you to buy or sells this model construction equipment. Ok, no more talks, let's get ready for that.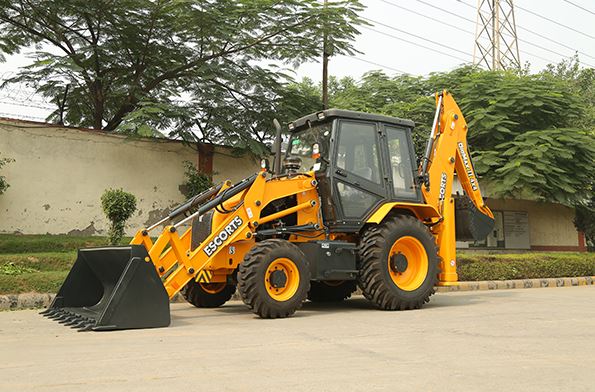 You May Also Like To Check: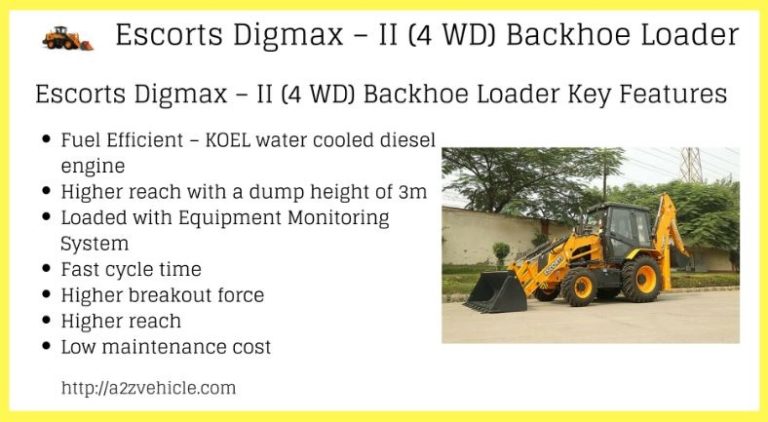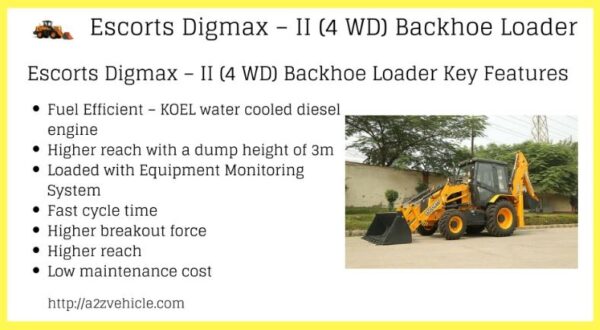 Escorts Digmax – II (4 WD) Backhoe Loader Price in India
For Price, please call on this number: 1800-180-4488
Escorts Digmax – II (24 WD) Backhoe Loader Key Features
Fuel-Efficient – KOEL water-cooled diesel engine

Higher reach with a dump height of 3m

Loaded with Equipment Monitoring System

Fast cycle time

Higher breakout force

Higher reach

Low maintenance cost
Escorts Digmax – II (4 WD) Backhoe Loader Specification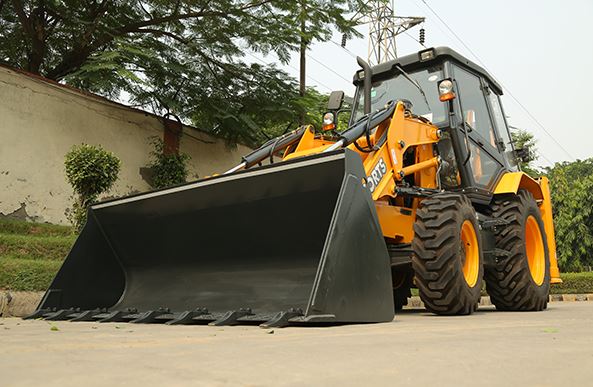 Optional Accessories
Heavy-duty rear tire: 14X25-20 PR

Rock breaker

Ripper Tooth

Extendible dipper

Multi-Purpose ( 6-in-1 Shovel) bucket

AC Cabin

Trenching buckets – 0.09 cu.m , 0.12 cu.m, 0.18 cu.m

Special purpose buckets – 0.30 cu.m, 0.32 Cu.m
Engine
Fuel efficient Kirloskar 4R1040TA, water-cooled diesel engine

Gross Power – 66.2 KW ( 90 HP ) at 2200 rpm
Hydraulics
Hydraulic Pump – Tandem Gear pump

Max flow ( Both Pumps) 117.5 Lpm at 2200 rpm
Axles
Front Drive and Steer axle with 12 deg oscillation for max ground contact

Rear Drive axle , rigidly mounted
Transmission
Four Speed (4F, 4R gear) syncro Shift, electrically controlled 2WD or 4WD, reversing shuttle transmission provides superior traction and gradeability

Neutral start provision prevents starting if shuttle is engaged

Gear lever with transmission disconnect switch adds to the overall ease of gear shifting
Tyres
Front (Std ) 12.5/80-18, 12PR

Rear ( std) 16.9X28-12PR
Service Refill Capacities
Hydraulic system Oil – 110 ltrs

Fuel Tank- 134 ltrs

Engine Coolant- 15 Ltrs

Engine Oil – 11.5 Ltrs

Transmission Oil – 16.5 Ltrs

Rear Axle Oil – 17.1 ltrs

Front Axle Oil – 9.1 ltrs

Brake reservoir Oil – 1.0 ltr
Loader Performance
Loader bucket capacity- 1.2 cu.m

Dump Height – 3.00 m

Bucket Breakout force – 6425 Kgf

Dump Angle – 45 Deg

Reach at Ground – 1.57 m

Lifting Capacity – 1980 Kg

Return to dig – Available

Self Levelling – Available

4 hydraulic cylinder geometry provides excellent visibility to loader
Excavator Performance
Excavator Bucket Capacity – 0.26 cu.m

Max dig depth – 4.8 m

Reach ground level to Rear wheel center – 6.97 m

Reach Ground level to slew center – 5.65 m

Reach Full Height to slew center – 2.23 m

Side reach to center line of machine – 6.00 m

Max working height – 6.30 m

Max load over height – 4.39 m

King Post Travel – 1.0 m

Bucket Rotation – 187 Deg

Bucket tear out force – 6018 kgf

Dipper tear force – 3250 kgf

Lift capacity to bucket pivot at full reach ( SAE J31)- 1554 kg
Hope you guys like this post, but If you have any problem regarding this post then, please leave a comment in below comment box. Thanks for visiting our site. And stay tuned to our site for more stuff like this.