What is the Difference Between a Lowboy and a Flatbed Trailer?
Difference Between a Lowboy and a Flatbed Trailer – There are various trailers you can choose from in the case of shipping freight. 
Which trailer to choose will largely be determined by the items you carry. Two options for campers for transporting large items are flatbed and lowboy trailers. 
Knowing the distinction between these two types of trailers and when you should, why, and how you should use them can aid in ensuring you have the appropriate trailer for your delivery.
Why Should I Know the Difference Between a Lowboy and a Flatbed Trailer?
Understanding the distinction between a flatbed trailer and a lowboy flatbed trailer is crucial for various reasons. If you're looking to move across the country or the street. 
An adequately fitted trailer can result in a cents-to-dollar difference. This can help prevent the loss of your items moving. While flatbeds can carry more weight, lowboys can transport things as tall as 12 feet high.
With the many types of flatbed and lowboy trailers available, it is essential to determine which one is best suited to your requirements. 
For instance, if you're planning to transport large equipment, you'll require a high-performance trailer that can withstand all the cargo it's carrying. This lets large machinery be safely able to move underneath bridges for highways.
A flatbed trailer will suffice if you're transporting a few boxes of construction equipment. However, for heavy equipment, you'll require an oversized lowboy. With the variety of options, it's been simpler to locate the perfect trailer for your needs.
Know About: How Drone Technology is Impacting the Construction Industry
Which Trailer to Choose between a Lowboy and a Flatbed Trailer
How do you choose a trailer to transport your cargo? It's essential to know the distinction between the lowboy and flatbed truck. Choose the one that is most appropriate for the type of cargo that you'll be transporting. 
Are you looking for a solution that can accommodate a wide range of freight? A flatbed is a right choice. 
However, a lowboy could be a better choice if you're focused on transporting bulky, heavy or large equipment. Before you pick which trailer you'll need, calculate the weight of the item you're transporting.
Lowboy Trailer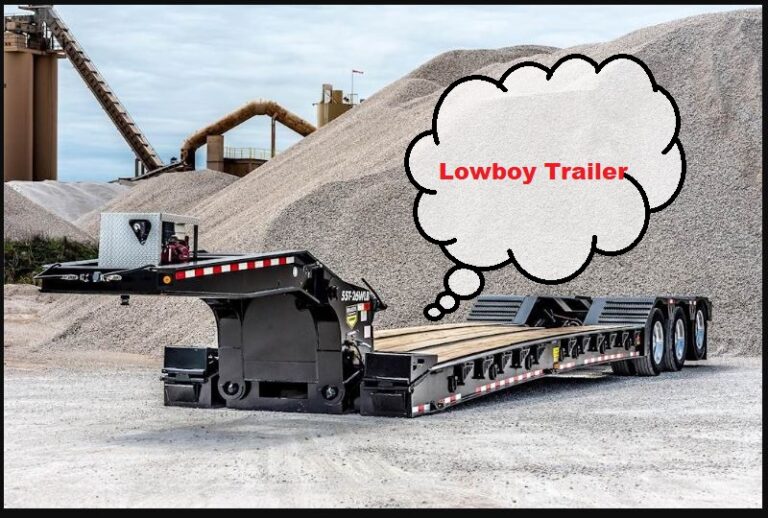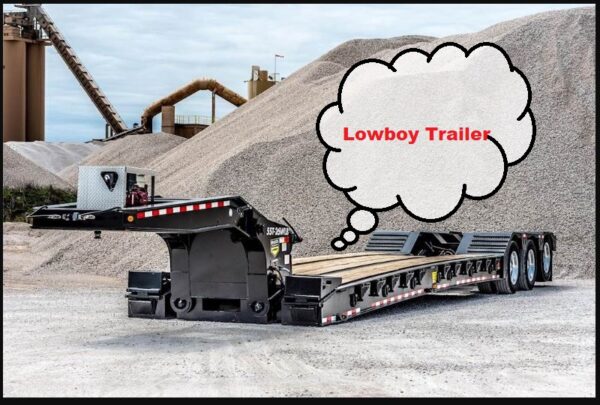 It has many different names, such as low-loader, lowboy, semi-trailer, and double-drop. The lowboy is a kind of semi-trailer equipped with a lower deck. This makes it easy to haul large and heavy loads like cranes, tractors and bulldozers. The bed is low, making it easier to unload and load heavy equipment. Lowboy trailers are available in a "gooseneck" or "fifth-wheel" design.
Types of Lowboy Trailers
Fixed Neck Lowboy

Removable Gooseneck (RGN) Lowboy

Fixed Gooseneck (FGN) Lowboy
A lowboy can transport various kinds of cargo. The items' dimensions and the trailer type determine how the freight is transported. The heavier the load, the more wheels there are on the trailer. So the more axles you have on the trailer, the stronger it is.
The maximum capacity for a flatbed trailer is:
Freight weight: 40,000 pounds for two axles, 80,000 pounds for anything beyond two axles.

Width: 8.5 ft.

Freight height: 11.5 ft. to 12 ft.

Overall load height: 14 ft.

Well height: 18 in. to 24 in (The well is the container.)

Well length: 24 ft. to 29.6 ft.
Goosenecks comes with a coupler that connects to the back of the pickup. However, fifth-wheel trailers feature an attachment to the fifth-wheel trailer's hitch on the bed of pickup trucks.  Lowboys are sometimes referred to as "equipment trailers," "heavy haulers," or "drop-decks." 
Lowboys are available in various sizes and come with an enclosed or open container for the cargo. If you must transport large machinery or heavy equipment, then a lowboy truck is the right choice.
Flatbed Trailer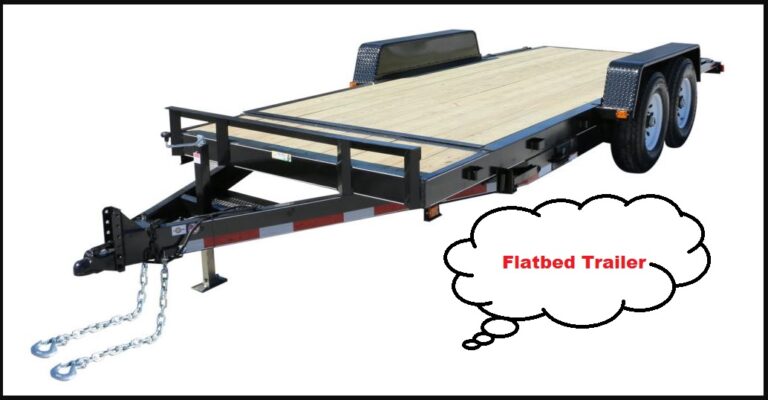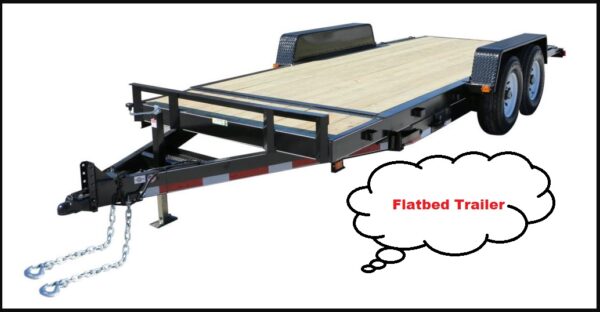 On the other hand, they are an excellent option for transporting large loads or objects that require restriction. They're more universal and could be a perfect option for transporting various items. 
A flatbed trailer can be utilized as a trailer to haul everything from appliances to furniture or construction equipment.
Types of Flatbed Trailers
Side kit trailer

Step deck Trailer

Conestoga trailer
Different flatbeds can carry various kinds of freight. Weight, height and the space available will vary with different designs. 
FreightCenter can help locate the ideal truck to transport your goods to ensure the best satisfaction.
The maximum capacity for a Flatbed trailer is:
Maximum freight dimensions. Length: 48 – 53 ft. Height: 8.5 ft. Width: 8.5 ft.

Maximum freight weight. 48,000 – 52,000 lbs.
Trailers may be an ideal option to move your possessions when you're planning to move. If you're carrying anything that is notably bulky or large, the trailer could help to simplify the job. 
They are generally lighter than lowboys and, therefore, simpler to transport.  They are the basic hauling technique that makes everyday truck transport possible. The ideal choice for you will be based on the specific requirements of your situation.
 Flatbeds and Lowboys Compare and Contrast
Flatbeds usually have a huge capacity to haul because they carry longer lengths or a deeper well. 
When the cargo to be hauled is placed at a truck-level elevation on flatbeds (10 feet for the Main Deck and 8.5 Feet for the Front Deck), Lowboys, with two axles, can haul the equivalent of 12 feet with cargo.
Lowboys and flatbeds are both used to transport large loads. An excellent example of each haul is large machinery equipment used on construction sites. 
They are more flexible than other types of trailers as they allow freight to be loaded from the rear from the side or on the top with cranes. 
Understanding the distinction between the flatbed and lowboy trailer is vital. It can be challenging to choose the best one to meet your needs.