Bucket Trucks Overview
From utilities maintenance and facilities maintenance services to road construction and forestry, bucket trucks have evolved into an extremely flexible tool that can perform work at high distances. They are designed to raise one person and various equipment and materials between 35 and 130 feet in the air. Many models also have arms that can rotate at a maximum of 360 degrees. Sometimes, they are called telescopic articulated aerial lifts or cherry pickers.
The combination of reach and maneuverability permits the positioning and repositioning of the work platform using the operator's control within the bucket itself. This does not just give access to areas not accessible to scissor lifts or the like, but it is also a great way to reduce time and money having to relocate the bucket through the movement of the vehicle.
The buckets themselves are attached to the back of a truck. They're supported by four-wheel drive on smaller trucks and up to 6-wheel drive on larger models. The top manufacturers like Dur-A-Lift, Terex, Altec, and Stamm frequently attach their truck mounts to well-known brands, such as the Ford F-Series and General Motor's Chevrolet or GMC.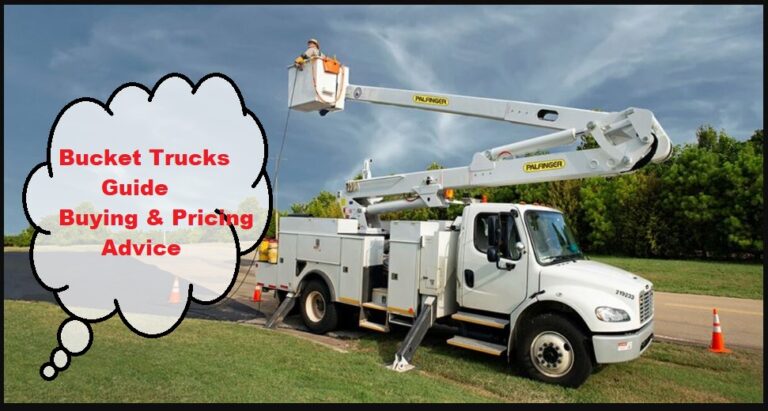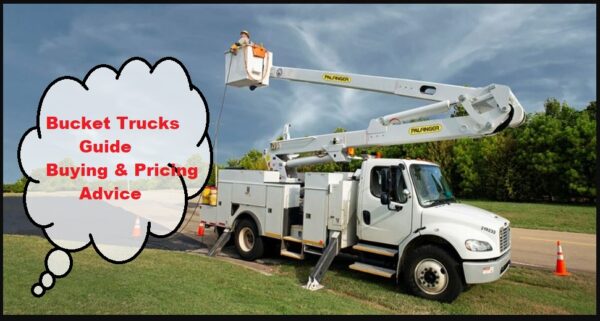 Bucket Trucks Purchase Considerations
There are numerous aspects to be considered when purchasing a vehicle that will influence the kind and size of bucket truck you're looking at. When you go through this guide, consider applying your requirements to the following aspects:
Intended use. The type of tasks you perform regularly will determine the type of body size, weight requirements, and working height. In all these considerations, weight and height are the two most significant elements – they allow accessibility and stability for an extended reach and materials handling capabilities.
License and certification. The Occupational and Safety Health Administration (OSHA) classified bucket trucks as boom trucks. This leads to various certification and licensing requirements that differ between states. The requirements can be a way to increase the total purchase price when taking into the cost of administration and training.
Support for dealers. Whether you plan to purchase a brand old or new bucket truck with a trusted dealer on your side can boost the value of your investment while also reducing incidents and downtime. This kind of support is advantageous to the majority of buyers. It is especially important for smaller companies with no in-house expertise to keep up with each vehicle's systems. Additionally, bucket truck dealers provide various service-level agreements (SLAs) specific to your industry and usage. These SLAs assure regular maintenance intervals, prompt response to service requests, and mechanical proficiency, which is usually specific for the specific model that you buy.
Additional features: Jib and platform height aren't the only aspects that improve productivity. Within certain work environments, they're not the most significant. Other improvements include the protection of hydraulic overload, rust protection, and GPS. The top dealers consider the lighting system and space for cargo as the two most sought-after buying factors for fleet managers and operators. Lighting is essential for two reasons lighting the area of work and also ensures the safety of workers working in remote or dark environments. Storage and cargo spaces can be used to reduce the time it takes to complete tasks by having the right items at your fingertips. Before you speak with an agent, list all possible adjustments you'll need.
Bucket Trucks Types and Bucket Trucks Costs
Bucket trucks are made to transport people's equipment, tools, and other items to awkward and high places. To achieve this, they're designed with a telescopic boom that securely extends and places the bucket at the appropriate work height.
It is common for bucket trucks to be assessed based on the working heights they can provide. However, the boom is another important aspect. It is typically equipped with some or all design elements that allow for greater maneuverability. These design elements further divide bucket trucks into these kinds:
Telescopic

Telescopic articulated

Elevators

Overcenter

Non-overcenter

Cable placers
Telescopic
Utility workers typically use cables and distribution lines to work; Telescopic bucket trucks come with a uni-directional rotation boom that raises the bucket up to 30 to 60 feet in the air. Most models have a joystick control which incorporates brake and driver controls within the bucket, a side load capacity of 600 – 800 pounds, and the operator's ability to connect with the crew at ground level.
Expect to pay $35,000 to $140,000 for new and recently manufactured used models.
Telescopic articulated
Expanding reach capabilities Telescopic articulated bucket trucks have 'joints' in the boom, allowing the operator to place and move the work platform at various angles and difficult-to-reach places. The models of this kind typically have higher levels of 45-70 feet, which is ideal for reaching out of the working areas that might otherwise be limited to trucks for work.
To make up for the extra range, these bucket trucks come with heavy-duty chassis, sturdy outriggers, and increased jib capacities to handle buckets up to 220 pounds. Some platforms are leveled by hydraulics and security systems that control and monitor the boom and outriggers. Some examples include sites with costly working areas and grounds that are not connected to an access road, which is often the case with forestry and new construction projects, as well as signage and lighting maintenance.
Expect to pay $43,000 – $150,000 for used and new models. manufactured models.
Cable placer
Cable placers are a type of bucket truck specifically designed for the telecommunications sector. They have an automated cable stringing system that makes it easier to construct and maintain telecom towers using the strand reel, which includes full stringing capabilities, auto bi-directional capabilities, an adjustable bull wheel for stringing, and a tow line.
Like most bucket trucks, cable placers have an intercom system that allows the driver to talk to crew members on the ground, as well as a range of useful tools, storage trays, and joystick control. The working heights average around 40 feet with a horizontal side reach of up 30 feet. Bucket capacities typically range from 300-500 pounds.
Expect to pay anywhere from $40,000 to $190,000 for brand-new and used models that have been recently produced.
Options
Once you have decided on the overall functionality, you can narrow your search by putting your requirements against alternatives. The technological advances typically influence performance, power, and operating costs in the following areas:
Platform Height

Boom classification

Driveline

Fuel type

Transmission
Platform Height
The category of bucket trucks is classified into three groups based on the height of the platform (also called work height) they can provide. It's important to note that the most diverse choices are offered within the 40-foot range, probably because of the standard heights for the aerial cable, rooftops, structures, outdoor signs, and lighting.
However, there are bucket trucks in three different levels of height:
Less than 50 feet, typically including models that are not over-center.

50-59 feet, typically including articulated and over-center models

More than 60 feet, usually comprising articulated, over-center elevators and models with telescopic telescopic
The greater the reach capacity, the higher the reach capability, and the more you anticipate spending. For instance, the cost for bucket trucks with less than 50ft of reach will be between $37,000 and $140,000. Trucks with 60-100 feet heights cost between $70,000 to $375,000.
Elevators
Elevator booms have some of the most impressive reach options within this type of equipment. Most often, they are used for forestry purposes. The majority of models are between 60 to 75 feet in height. Booms are generally divided into two parts (upper and lower). Many models have insulated parts, allowing the boom to be utilized for various electrical jobs and with a minimum of two outriggers to provide additional stability.
Most models have a single bucket for a single person and have an overall weight capacity of about 350 pounds. The additional options available for this boom truck include:
Sign space.

Light hookups to provide enhanced visibility.

A sheath to prune poles to store saws and other tools – keeping them away from the view of others yet conveniently accessible.
You can expect to pay $71,000 to $130,000 for newly produced used models. It's not a surprise that older models (manufactured between 2002 and 2007 and with 56,000 to 80,000 miles on the Odometer) are available at prices ranging from $30,000 to $45,000.
Non-overcenter
Bucket trucks that don't center on the bare-bones version are most suited to the most basic aspects of maintenance. They serve the same purpose as scissor lifting, models that are not overcenter compensate for the difference in mobility by providing higher heights. They offer the most working heights in this segment, allowing buckets to be lifted between 30 and 100 feet up in the air.
Created for large open spaces that allow easy vehicle access, bucket trucks that aren't overcentered don't permit the boom to go over the middle of the car. But they can articulate the lower boom, with some models providing an articulation range of up to 90° at the center. Platform leveling is also standard as well as powered by hydraulics along with tilt functions as well as the material handling system (if it is included).
Expect to pay $56,000 – $130,000 for brand new or recently used models.
Overcenter
Overcenter lifts are a different type of articulated truck typically incorporating articulation into their design. They improve the maneuverability of teams of workers that have to get into difficult-to-access areas by permitting the boom to move through the center of the vehicle. This permits workers to move the bucket without having to move the truck. It is used for landscaping, forestry, or construction.
The majority of overcenter bucket trucks have 35 to 55 feet of height. If you compare these models, there's an additional factor in the boom's side reach. There is a maximum horizontal reach between 31 and 50 feet at the top of the boom.
Expect to pay between $70,000 and $250,000 for newly produced used models, with many models for 2015 priced within the $105,000-$145,000 to $145,000 range.
Boom classification
The type of boom you pick will greatly determine if your work requires the control of cables. Booms for trucks with buckets are available in two kinds:
Insulated: designed for utility maintenance and construction and electricians, insulated booms offer the same height and articulation as their non-insulated counterparts. They are constructed of fiberglass and other dielectric components that block the flow of electricity. Modern models have two insulated gaps: one at the elbow of the boom and the other between the chassis and the mount. Older models might only have one spot of insulation on the top boom, which is something to bear when purchasing an older bucket truck.
Non-insulated, as the title implies, non-insulated bucket trucks do not offer protection against electric shocks, which is why they are unsuitable to work with electric lines. It's important to remember that the majority of bucket trucks fall in the latter category due to the higher prices associated with insulated parts.
An insulated boom can raise the price of the vehicle you purchase by between 30 and 100 percent compared to non-insulated models. The price range for newly constructed or recently produced bucket trucks with insulated roofs is $60,000 and $230,000, but certain models cost as much as $375,000.
Driveline
Driveline, also referred to as drivetrain, is a symbol of the power supplied through bucket trucks' wheels. Based on the size and capacity, you'll come across the following types of configurations:
Fourx2: four wheels with two wheels that distribute power (also referred to as two-wheel drive, or 2WD)

Four wheels with four wheels that distribute power (also called four-wheel drive, or 4WD)

6×4: Six wheel, with four wheels that distribute the power

6×6: Six wheels that are used to distribute power (also referred to as six-wheel drive, or 6WD)

Tracks: Made of steel and rubber tanks, these tracks are designed to handle better uneven or shifting terrain, such as loose dirt or gravel, and can be used on slopes that can be as high as 60 60%.
In general, bigger bucket trucks that offer the most efficient combination of material handling and extended sides or heights will require 4WD or 6WD. Lesser models with sizes less than 40 feet are typically found with either 4WD or 2WD.
Fuel type
The less common type of gasoline-powered engines, although they exist. They are typically employed to power small trucks and service vans equipped with a tiny bucket and boom arm. Because of the high demands for performance on this kind of equipment, most bucket trucks run on diesel engines with horsepower ranging from 170 to 310 horsepower.
In addition to diesel and gasoline hybrid models, hybrids are growing in popularity, particularly among fleet managers and businesses determined to reduce their carbon footprint by purchasing electric cars. The hybrid model combines an engine-powered diesel or gasoline engine with a battery to power the non-propulsion features of the truck bucket.
In comparing the prices, gasoline and diesel engines are the same. However, the same can't be stated for hybrid engines. Recent research findings suggest fuel savings of around 40 percent when comparing hybrid engines against diesel or gasoline models.
Let's take the situation from a different angle: On a service vehicle that drives 15,000 miles a year and has a performance of 10 miles per gallon and the diesel fuel price of $2.52, This amounts to an annual fuel bill of $3,780. Based on the same numbers, the hybrid model can reduce fuel costs by up to $1,512 per car annually.
In addition to their capability to save fuel, reduce emissions and lower the amount of noise, they create the hybrid bucket trucks report to achieve up to 99 miles for every gallon within certain fleets.
Transmission
Bucket trucks can be found in manual or automatic transmissions. Although some drivers may prefer one kind of transmission over the other, the transmission of bucket trucks can affect safety and efficiency in certain situations. This is another aspect where the intended usage and working environment significantly influence your purchase.
Manual transmissions force drivers to let their foot off the accelerator when they change gears. This can result in an expense of between 16 and 28 seconds of efficiency per mile. Manual transmissions can also make rollbacks more likely to occur, especially on uneven terrain or steep slopes.
Based on the conditions on your site, Automated transmissions might effectively eliminate rollbacks by continuously applying torque on the wheel.
The cost difference between the two isn't significant. With the advances in security and convenience, automatic transmissions typically cost $1000 to $3000 more expensive in terms of initial price than their manual counterparts.