Mini Excavator Rental Cost 
Mini Excavator Rental Cost – Mini excavators are smaller than standard excavators and are typically used for small to moderate jobs like landscaping work, sewer line repair, or pool and hot tub installation. 
However, you can pair them with attachments like cutters, brushes and augers to accomplish other tasks beyond excavation, making them important for most work sites. Mini excavators are available in sizes ranging from 2,000 to 20,000 pounds. 
They have many benefits over standard excavators. For example, they leave fewer track marks and top ground damage, have a longer overall lifespan, are more comfortable manoeuvring in crowded areas like parking lots, and are more practical to transport between work sites.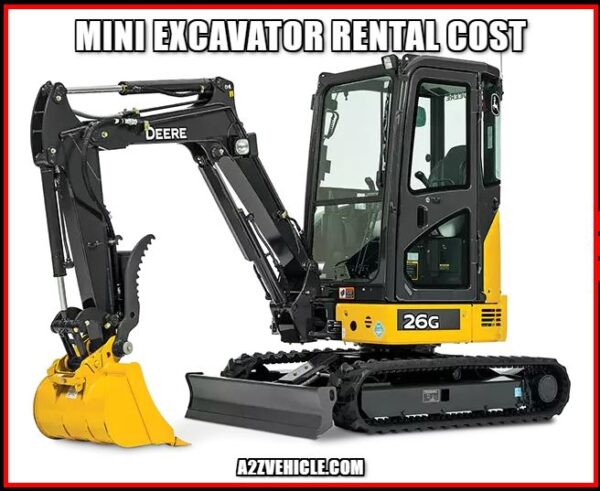 How much does it cost to rent a mini excavator?
The cost to rent a mini excavator differs based on size, with costs rising as machines get heavier. They can be leased by the day, week, or month. Here are some examples of what you might wish to pay:
| | | | |
| --- | --- | --- | --- |
| Mini Excavator Rental Cost | DAY | WEEK | MONTH |
| A 4,000-pound mini excavator costs | $197 | $520 | $1,456  |
| An 8,000-pound mini excavator costs | $242 | $728  | $1,966 |
| A 12,000-pound mini excavator costs | $312  | $907 | $2,466 |
| A 16,000-pound mini excavator costs  | $416 | $1,278 |  $3,048 |
|  An 18,000-pound mini excavator costs | $416 a day | $1,005 |  $3,009 |
What is a mini excavator used for?
Mini excavators are the smallest class of machines but work like other types of earthmoving equipment. You can use them for tasks like plowing, trenching, leveling, drilling, digging, light demolition, and grading. Projects they've commonly used include installing removing trees and pools, landscaping, and demolishing small buildings.
What size mini excavator do I need?
The size of the machine you pick will depend on the scope of the task, the area, and the amount of power you'll need. Larger buckets can handle heavier weights, while smaller models can fit into smaller spaces. Therefore, you'll need to weigh the advantages and disadvantages of each one. For example, a mini excavator weighing 3,500 pounds can dig tiny foundations, transfer material like piping or beams, and also move dirt, gravel debris, or rubble. A model weighing 11,000 pounds can handle tasks like backfilling trenches and trenching. A model weighing 18,500 pounds could dig for up to 15 feet.
What attachments can I use with a mini excavator?
You can choose from a variety of attachments with an excavator mini. There are buckets to trench and grade, and some have hydraulic thumbs to aid in the removal of and secure materials while moving it. To lift larger materials such as stumps of trees or tree stumps, you can utilize clamps. Augers can drill into the ground. Breakers function like jackhammers to break down tough surfaces like concrete. Similar to huge claws, rippers can smash up soil that is hard-packed and permafrost. The mulchers and brush cutters are among other choices.
What are the differences between excavators and mini excavators?
A standard excavator weighs 10 to 45 tons, while a mini excavator weighs less than 6 tons. Mini excavators are more compact, allowing them to fit into tighter spaces and manoeuvre more easily. In addition, they' are often small enough to transport via Class 1 and Class 2 trucks, which don't need a commercial driver's license in some states. Mini excavators can also make tighter turns and are better fitted to avoid obstacles. However, if you require a lot of power or to dig deep, you will likely want a midi (mid-sized) or standard model.