Boxer 950HD Mini Skid-Steer Specs, Price, Review Overview
The Boxer 950HD Mini Skid-Steer debuts as the most superior and capable mini-skid steer on the market. 
The machine features a hydrostatic operating system, improved ergonomics and creature comforts such as operator hip and thigh padding, cup holder and 12-volt auxiliary power supply.
The Boxer 950HD Mini Skid-Steer features the industry's highest hinge pin height, enabling it to easily dump over a 6′ (1.8-meter) sidewall; class-leading 48-HP diesel engine; advanced electronic display with onboard diagnostic capabilities; multiple mode settings, allowing the operator to tailor the machine to the application; and two joystick operation patterns.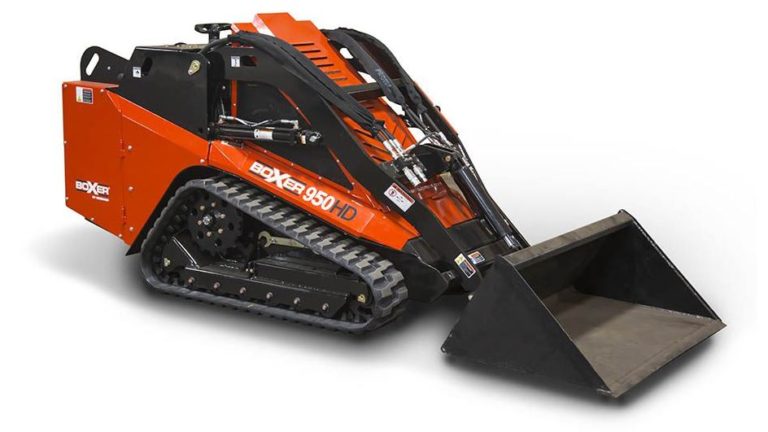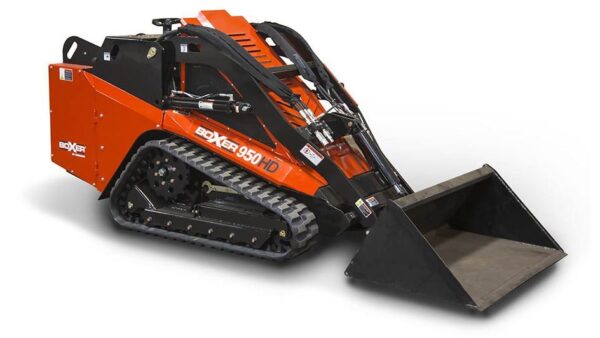 Here you can get the Boxer 950HD Mini Skid-Steer completely information like Price, technical specifications, Key features, Review, video, and Images. I hope it is useful for you to buy or sells this model Boxer 950HD Mini Skid-Steer because all kinds of information are genuine and reliable. Ok, No more talks, let's start it.
Guys You May Also Check:
Boxer 950HD Mini Skid-Steer Price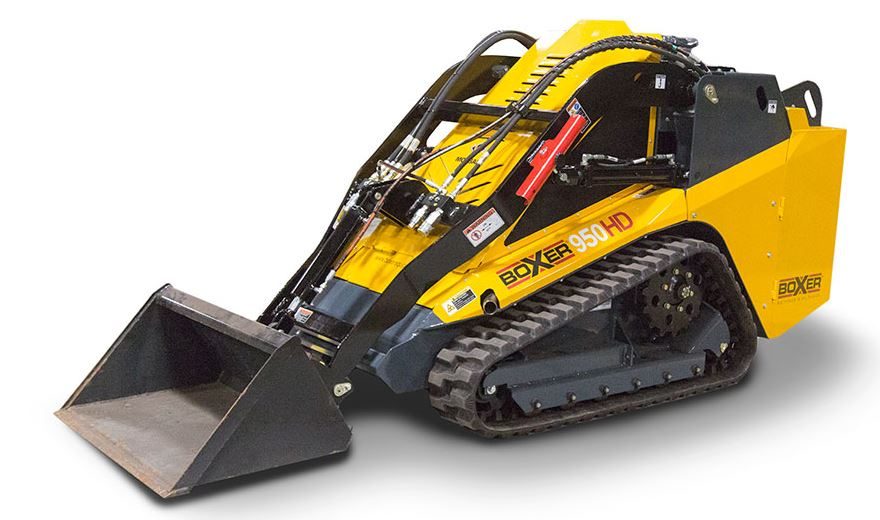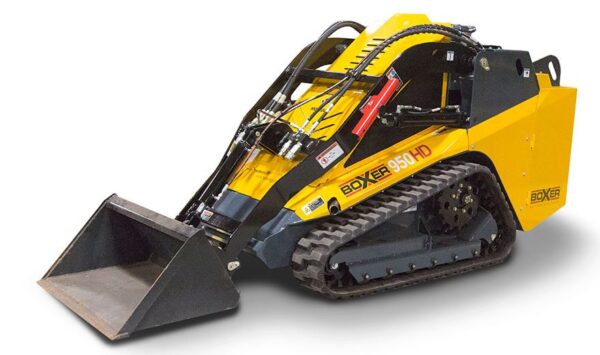 Price: $33,600 USD
Boxer 950HD Mini Skid-Steer Key Features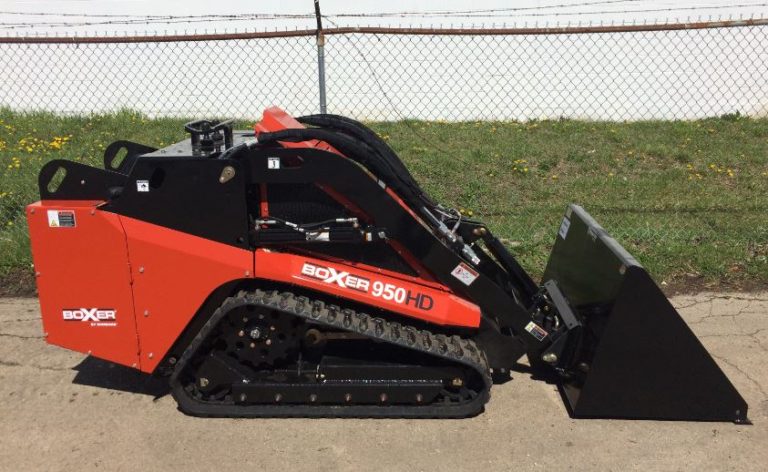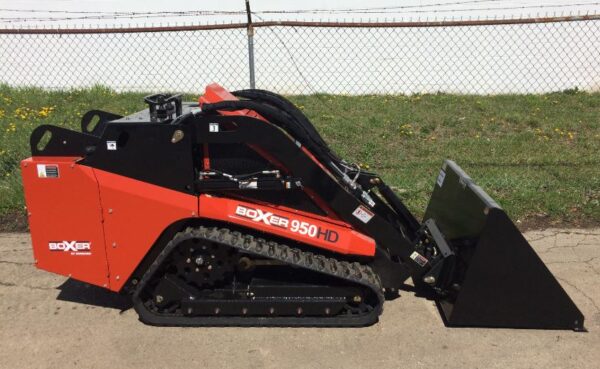 48-HP (36kW) Tier 4 Final Isuzu diesel engine

2734 lbs. (1238 kg) tip capacity

957 lbs. (434 kg) operation capacity (35% tip load)

Maintenance-friendly, remote-mounted engine oil and fuel filters, fuse block and relays make servicing the 950HD simple.

Easy-to-use, push-button, dual pressure relief blocks releases residual machine pressure to make hydraulic attachment connections quick and easy.

Universal compact utility loader mounting plate and quick-attach system to quickly and easily switch between any standard attachment

Spring-cushioned operator platform provides improved ergonomics and attachment visibility, resulting in improved operator comfort and reduced fatigue.

Rubber tracks provide excellent tractive effort with minimal ground disturbance.
Boxer 950HD Specs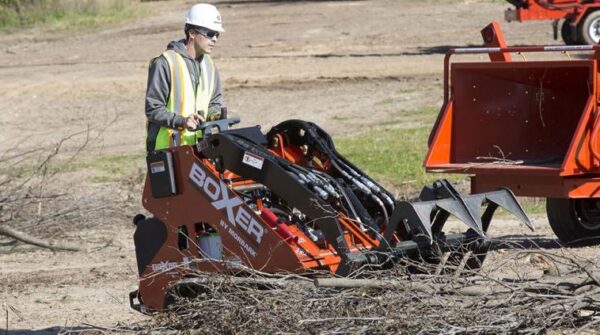 ENGINE SYSTEM

ENGINE
METRIC
Type

Isuzu

Emission Level

Tier 4 Final

HP/kW

48 HP

36 kW

Fuel Type

Diesel

Fuel Capacity

15 Gallons

57 Litres

Hydraulic Capacity

12.2 Gallons

46.2 Litres

System Flow (Total)

25.6 GPM

97 L/min

Hydraulic Flow Aux (Hi/Lo)

15/3.5 GPM

57/13 L/min

Hydraulic Flow (Drive)

7.1 GPM

27 L/min

System Pressure

3000 PSI

20684 kPa

Engine Warranty

3 years/3,600 hours; 5-year major component coverage

Product Warranty

1 year/1,000 hours
UNITS
ENGINE
METRIC
Track Gauge

35.5 in

902 mm

Track Width

9 in

230 mm

Weight (No Attachment)

3470 lbs

1572 kg

Length (w/Bucket)

120 in

3048 mm

Length (w/out Bucket)

97.1 in

2466 mm

Width (Overall)

44 in

1118 mm

Height (Overall)

53.6 in

1361 mm

Height (Fully Raised)

101.5 in

2578 mm

Operating Capacity (35%)

957 lbs

434 kg

Tip Capacity

2734 lbs

1238 kg

Hinge Pin Height (Fully Raised)

95.5 in

2426 mm

Dump Height

77.25 in

1962 mm

Dump Angle

34 Degrees

34 Degrees

Reach

34 in

864 mm

Ground Clearance

5.75 in

146 mm

Ground Pressure

4.3 PSI

29.6 kPa

Ground Speed

4.5 MPH

7.2 km/h

 
That was all about the Boxer 950HD Mini Skid-Steer Technical Specifications, Features, and other essential details. I hope you got all the information which you were searching for online. And also that you enjoyed reading the article if you have any questions or doubts, you can comment below in the comment box. I will respond to you as soon as possible. And thanks for reading, stay tuned with me for more stuff like this.