Kubota KX018-4 Price, Specs, Review, Overview
Here in this post, you can get to know about the Kubota kx018-4 price, Kubota kx018-4 specs, Kubota kx018-4 review, Kubota kx018-4 manual, Kubota kx018-4 attachments and more.
The Kubota KX018-4 Mini Excavator is designed to handle the heaviest of loads in the tightest of places.
With a roomy operators area, the Kubota KX018-4 Mini Excavator is jam-packed with features to increase productivity and comfort.
Kubota KX018-4 Mini Excavator Powered by a reliable 17HP engine, experience powerful digging force and a wider working range than ever before.
Also Check:
Kubota KX018-4 Mini Excavator Price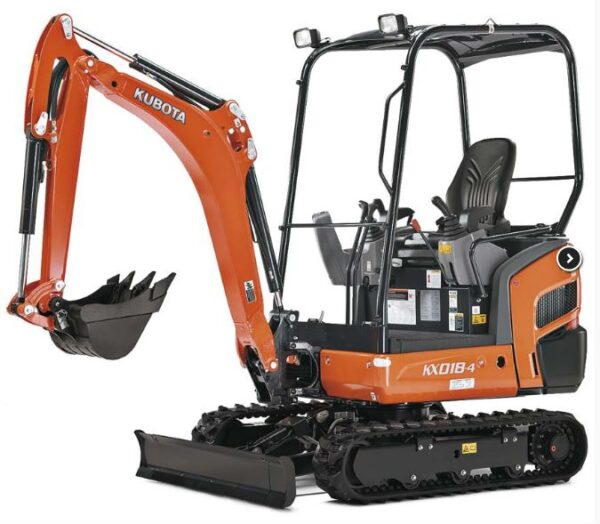 Price: $49,500 USD
Kubota KX018-4 Mini Excavator Key Features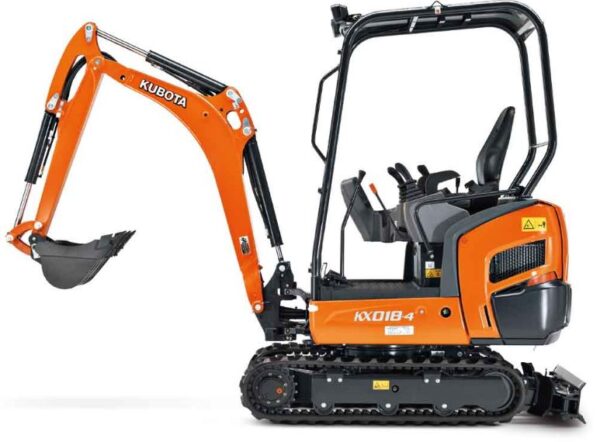 Service:
Integrated travel motor hoses within the track frame to reduce downtime.

Topside positioned boom cylinder for increased reliability and prevents cylinder damage.

Consolidated components to one side for easy single sided maintenance.
Performance:
Double flanged track rollers improve stability and travel performance.

Powered by a Kubota D902 17HP engine, for maximum digging performance.

Powerful and well balanced, designed to dig faster and harder in the toughest of conditions with a bucket breakout force of 1630KG.
Versatility:
Two Pattern Selection System provides the operator the versatility to be able to switch between ISO and SAE Pattern.

Great if you have more than one person operating the machine.

Tracks can be expanded up to 1,300mm to offer stability or retracted to 990mm to fit through narrow pathways for greater flexibility.

Auto travel shift system enables shifting from high to low range for a smoother operation when dozing or turning.
Comfort:
Ergonomically designed controls with a new suspension seat help reduce operator fatigue during those long days.

New digital panel puts all functions at your fingertips for operator convenience.

ROPS and FOPS certified for ease of mind when entering any job site.
Kubota KX018-4 Specs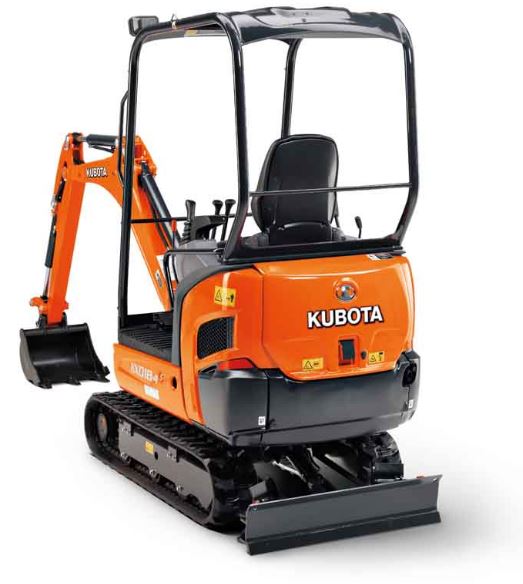 Model
KX016-4
 Type of ROPS

Canopy

 Type of tracks

Rubber

Engine
Model

Kubota D902-BH

Output (SAE J1995 gross) HP (kW)/rpm

17.0 (12.7) / 2300

Output (SAE J1349 net) HP (kW)/rpm

15.2 (11.3) / 2300

Displacement (cc)

898

Dimensions
Overall length (mm)

3710

Overall height (mm)

2330

Overall width (mm)

1300 / 990

Min. ground clearance (mm)

160

Hydraulic system
Pump capacity (I/min)

17.3 × 2 / 10.4 × 1 / 6.2 × 1

Auxiliary hydraulic flow (I/min)

27.7

Max. breakout force (Bucket) kgf

1630

Max. breakout force (Arm) kgf

840

Drive system
Travel speed (km/h)

2.2 / 4.0

Max. traction force (kgf)

2230

Tumbler distance (mm)

1230

Crawler length (mm)

1585

Shoe width (mm)

230

Ground contact pressure (kgf/cm2)

0.26

Swing system
Unit swing speed (rpm)

9.1

Boom swing angle (left) (degree)

75

Boom swing angle (right) (degree)

60

Blade
Dimensions (width) (mm)

1300 / 990

Dimensions (height) (mm)

230

Max. lift above ground (mm)

230

Max. drop below ground (mm)

230

Other
 Hydraulic oil (reservoir / system) (l/min)

15.5 / 28

 Fuel reservoir (l/min)

21

 Operating weight (kgs)

1700

 Operator weight (canopy) (kgs)

–
Kubota KX018-4 Mini Excavator Review Video
So this was all about the Kubota Kubota KX018-4 Mini Excavator Price, Technical Specifications, and other important details. I hope you got all the information which you were searching for online. And also that you enjoyed reading the article if you have any kind of questions or doubts you can comment below in the comment box. I will respond to you as soon as possible. And thanks for reading.
Resource: http://www.kubota.com.au