Tempo Traveller Price List in India 2023 – Here in this post, we have listed Top 15 Tempo Travellers models with prices in India. You can find the most appropriate and cheap Tempo Traveller here.
We have Tempo Traveller from all the reputed and trusted brands: Force, Mahindra, Tata and Maruti Suzuki.
The Tempo Traveller price in India ranges from Rs. 5.10 Lakh* to Rs. 29.25 Lakh*. And Tempo Traveller's HP range starts from 26 HP to 115 HP.
Tempo Travellers are used for passenger commercials. The GVW of this segment begins from 1510 KG and goes up to 5700 KG.
The most popular Tempo Travellers are Force Traveller Tempo 3050, Tata Winger, Maruti Suzuki Eeco Cargo and many others.
New Tempo Traveller Price List 2023
| | |
| --- | --- |
| Tempo Traveller in India | Tempo Traveller Price in India 2023 |
| Force Traveller Tempo 3050 | Rs. 12.85 Lakh* – 16.32 Lakh* |
| Tata Magic Express | Rs. 7.34 Lakh* – 7.84 Lakh* |
| Tata Winger Tourist/Staff | Rs. 15.21 Lakh* – 16.20 Lakh* |
| Tata Magic Express School Van | Rs. 7.34 Lakh* – 7.84 Lakh* |
| Tata Winger Skool | Rs. 16.76 Lakh* – 17.51 Lakh* |
| Mahindra Supro Van | Rs. 5.42 Lakh* – 5.92 Lakh* |
| Tata Winger Cargo | Rs. 13.30 Lakh* – 14.05 Lakh* |
| Tata Winger Ambulance | Rs. 18.21 Lakh* – 18.96 Lakh* |
| Mahindra Supro Mini Van | Rs. 6.88 Lakh* – 7.38 Lakh* |
| Force Traveller 26 | Rs. 13.78 Lakh* – 15.25 Lakh* |
| Tata Winger Staff | Rs. 16.50 Lakh* – 17.25 Lakh* |
| Mahindra Supro Minivan School | Rs. 6.19 Lakh* – 6.69 Lakh* |
| Force Urbania | Rs. 28.99 Lakh* – 29.25 Lakh* |
| Mahindra Supro Ambulance | Rs. 7.41 Lakh* – 7.91 Lakh* |
| Force Traveller 3350 | Rs. 15.44 Lakh* – 19.32 Lakh* |
Tempo Traveller Price List in India 2023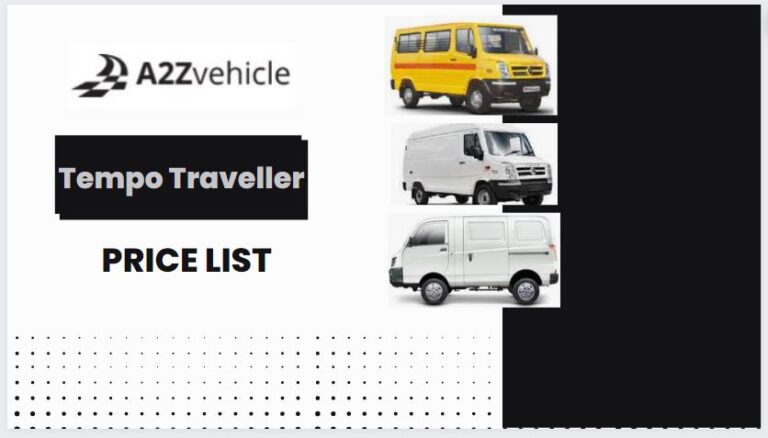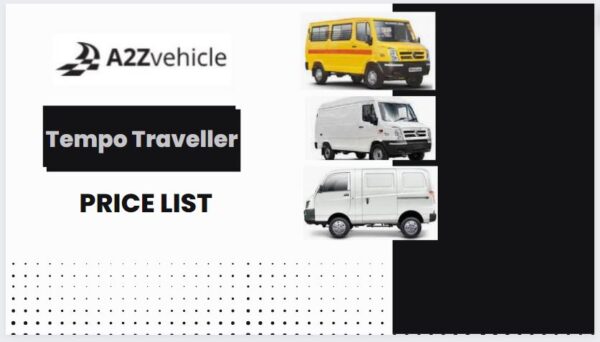 | | |
| --- | --- |
| Tempo Traveller in India | Tempo Traveller Price |
| Force Traveller school bus 3050 | Rs. 13.45 Lakh* – 13.84 Lakh* |
| Force Traveller Tempo 3050 | Rs. 12.85 Lakh* – 16.32 Lakh* |
| Force Trax Delivery Van | Rs. 6.82 Lakh* – 6.95 Lakh* |
| Force Traveller Delivery Van Wider | Rs. 10.87 Lakh* – 10.97 Lakh* |
| Force Traveller Delivery Van | Rs. 6.82 Lakh* – 6.89 Lakh* |
| Mahindra E-Supro Cargo Van | Rs. 8.45 Lakh* – 8.75 Lakh* |
| Mahindra Supro Cargo Van | Rs. 5.29 Lakh* – 5.65 Lakh* |
| Tata Magic Express School Van | Rs. 7.34 Lakh* – 7.84 Lakh* |
| Tata Magic Express Ambulance | Rs. 8.44 Lakh* – 8.94 Lakh* |
| Tata Magic Express | Rs. 7.27 Lakh* – 7.77 Lakh* |
| Tata Winger Tourist/Staff | Rs. 15.21 Lakh* – 16.20 Lakh* |
| Tata Winger Staff | Rs. 14.35 Lakh* – 15.75 Lakh* |
| Tata Winger Skool | Rs. 12.97 Lakh* – 15.54 Lakh* |
| Tata Winger Ambulance | Rs. 16.02 Lakh* – 16.52 Lakh* |
| Tata Winger Cargo | Rs. 13.30 Lakh* – 14.05 Lakh* |