New Holland Compact Track Loaders Specs, Prices, Features, Overview
My friends When you want a reliable workhorse to stand up to a quality of demanding applications, turn to the 200 Series New Holland compact track loaders.
These New Holland compact track loader all models hold fast to steep slopes and move easily through muddy or sandy terrain to complete jobs quickly and efficiently.
So Today here in this post, you can get to know about the New Holland Compact Track Loaders Price list, Technical specifications, Key features, Images, review and more Informations. I hope that all kinds of information are useful to you my friends.
You May Also Check:
Bobcat Compact Track Loader Price List
New Holland C227 Compact Track Loader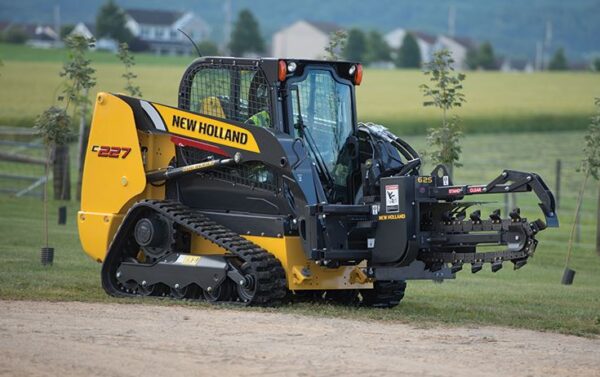 New Holland C227 Price
Price: $49,052 USD
New Holland C227 Compact Track Loader Key Features
Horsepower per SAE J1349 Net hp (kW): 68 (51) @ 2500 rpm
Pump flow, gpm (Lpm): 24.2 (91.5)
Operating weight, lbs (kg): 8270 (3750)
New Holland C227 Specs
ENGINE
Manufacturer/model

FPT / F5H FL463A

Bore/stroke, in (mm)

3.9 x 4.3 (99 x 109)

Displacement, in3 (L)

207 (3.4)

Fuel injection

HPCR Direct

Air intake

–

Horsepower per SAE J1349 Gross hp (kW)

74 (55) @ 2500 rpm

Horsepower per SAE J1349 Net hp (kW)

68 (51) @ 2500 rpm

Peak torque, lb-ft (Nm)

232 (314) @ 1400 rpm
| | |
| --- | --- |
| POWERTRAIN |   |
| Travel speed, low range, mph (km/h) | 5.1 (8.2) |
| Travel speed, high range (optional), mph (km/h) | 7.6 (12.2) |
| | |
| --- | --- |
| DIMENSIONS |   |
| Bucket hinge pin, in (mm) | 123 (3124) |
| Top of ROPS, in (mm) | 78.7 (1998) |
| Bottom of level bucket, fully raised, in (mm) | 116.1 (2950) |
| Overall length without attachment with coupler, in (mm) | 105.1 (2669) |
| Dump angle, degrees | 40 |
| Dump reach (max height), in (mm) | 22.3 (568) |
| Rollback, bucket on ground, degrees | 31 |
| Rollback, bucket at full height, degrees | 99 |
| Track on ground, in (mm) | 55.9 (1419) |
| Ground clearance (bottom of belly pan), in (mm) | 8 (203) |
| Angle of departure, degrees | 32 |
| Clearance circle without bucket, in (mm) | 50.7 (1289) |
| Clearance circle rear, in (mm) | 62.9 (1599) |
| Overall width, in (mm) | 65.9 (1676) |
| Ground pressure, PSI (with spec belt) | 5,9 |
| | |
| --- | --- |
| HYDRAULICS SYSTEM |   |
| Pump flow, gpm (Lpm) | 24.2 (91.5) |
| Optional high flow, gpm (Lpm) | 32.4 (122.6) |
| Relief pressure, psi (bar) | 3046 (210) |
| | |
| --- | --- |
| PERFORMANCE |   |
| Rated operating load, 50% tip, lbs (kg) | 2700 (1225) |
| Rated operating load, 35% tip, lbs (kg) | 1890 (860) |
| Tipping load, lbs (kg) | 5400 (2449) |
| Breakout force, lift cylinder, lbs (kN) | 6080 (27) |
| Breakout force, bucket cylinder, lbs (kN) | 7270 (32.3) |
| Operating weight, lbs (kg) | 8270 (3750) |
|   |   |
New Holland C232 Compact Track Loader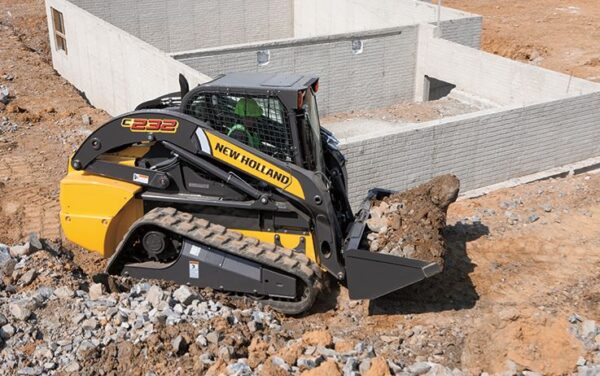 New Holland C232 Price
Price: $77,230 USD
New Holland C232 Compact Track Loader Key Features
Horsepower per SAE J1349 Net hp (kW): 68 (51) @ 2500 rpm
Pump flow, gpm (Lpm): 24.2 (91.5)
Operating weight, lbs (kg): 9630 (4370)
New Holland C232 Specs
| | |
| --- | --- |
| ENGINE |   |
| Manufacturer/model | FPT / F5H FL463A*F001 |
| Bore/stroke, in (mm) | (3.9 x 4.3) 99 x 110 |
| Displacement, in3 (L) | 207 (3.4) |
| Fuel injection | HPCR Direct |
| Air intake | Turbocharged Aftercooled with external EGR |
| Horsepower per SAE J1349 Gross hp (kW) | 74 (55) @ 2500 rpm |
| Horsepower per SAE J1349 Net hp (kW) | 68 (51) @ 2500 rpm |
| Peak torque, lb-ft (Nm) | 232 (314) @ 1400 rpm |
| | |
| --- | --- |
| POWERTRAIN |   |
| Travel speed, low range, mph (km/h) | 5.1 (8.2) |
| Travel speed, high range (optional), mph (km/h) | 7.6 (12.2) |
| | |
| --- | --- |
| DIMENSIONS |   |
| Bucket hinge pin, in (mm) | 131.1 (3330) |
| Top of ROPS, in (mm) | 80.4 (2043) |
| Bottom of level bucket, fully raised, in (mm) | 124.2 (3155) |
| Overall length without attachment with coupler, in (mm) | 117.8 (2993) |
| Dump angle, degrees | 54.7 |
| Dump reach (max height), in (mm) | 34.4 (875) |
| Rollback, bucket on ground, degrees | 32.8 |
| Rollback, bucket at full height, degrees | 84.8 |
| Track on ground, in (mm) | 64.5 (1639) |
| Ground clearance (bottom of belly pan), in (mm) | 9.5 (243) |
| Angle of departure, degrees | 32 |
| Clearance circle without bucket, in (mm) | 56.2 (1428) |
| Clearance circle rear, in (mm) | 70.4 (1789) |
| Overall width, in (mm) | 76 (1930) |
| Ground pressure, PSI (with spec belt) | 4.2 |
| | |
| --- | --- |
| HYDRAULICS SYSTEM |   |
| Pump flow, gpm (Lpm) | 24.2 (91.5) |
| Optional high flow, gpm (Lpm) | 37.6 (142.5) |
| Relief pressure, psi (bar) | 3046 (210) |
| | |
| --- | --- |
| PERFORMANCE |   |
| Rated operating load, 50% tip, lbs (kg) | 3200 (1451) |
| Rated operating load, 35% tip, lbs (kg) | 2240 (1018) |
| Tipping load, lbs (kg) | 6400 (2902) |
| Breakout force, lift cylinder, lbs (kN) | 4840 (21.5) |
| Breakout force, bucket cylinder, lbs (kN) | 7510 (33.4) |
| Operating weight, lbs (kg) | 9630 (4370) |
|   |   |
New Holland C234 Compact Track Loader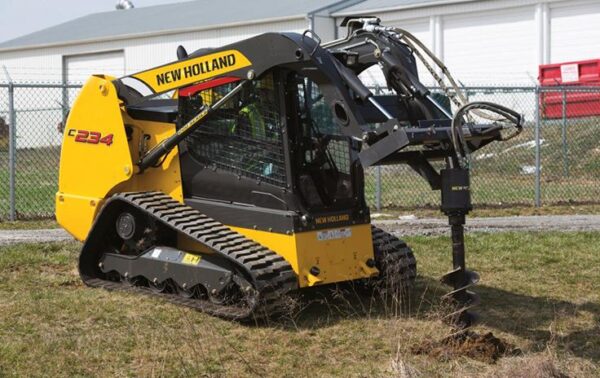 New Holland C234 Price
Price: $80,230 USD (Approx)
New Holland C234 Compact Track Loader Key Features
Horsepower per SAE J1349 Net hp (kW): 84 (63) @ 2,500 rpm
Pump flow, gpm (Lpm): 24.2 (91.5)
Operating weight, lbs (kg): 10,000 (4536)
New Holland C234 Specs
| | |
| --- | --- |
| ENGINE |   |
| Manufacturer/model | FPT / F5B FL413E |
| Bore/stroke, in (mm) | 3.9 x 4.3 (99 x 109) |
| Displacement, in3 (L) | 207.5 (3.4) |
| Fuel injection | HPCR Direct |
| Air intake | Turbocharged Aftercooled with external EGR |
| Horsepower per SAE J1349 Gross hp (kW) | 90 (67) @ 2500 rpm |
| Horsepower per SAE J1349 Net hp (kW) | 84 (63) @ 2500 rpm |
| Peak torque, lb-ft (Nm) | 282 (383) @ 1400 rpm |
| | |
| --- | --- |
| POWERTRAIN |   |
| Travel speed, low range, mph (km/h) | 5.1 (8.2) |
| Travel speed, high range (optional), mph (km/h) | 7.6 (12.2) |
| | |
| --- | --- |
| DIMENSIONS |   |
| Bucket hinge pin, in (mm) | 126.5 (3215) |
| Top of ROPS, in (mm) | 80.4 (2043) |
| Bottom of level bucket, fully raised, in (mm) | 119.6 (3038) |
| Overall length without attachment with coupler, in (mm) | 118.7 (3016) |
| Dump angle, degrees | 38.1 |
| Dump reach (max height), in (mm) | 21.6 (548) |
| Rollback, bucket on ground, degrees | 29.7 |
| Rollback, bucket at full height, degrees | 99.7 |
| Track on ground, in (mm) | 64.5 (1639) |
| Ground clearance (bottom of belly pan), in (mm) | 9.5 (243) |
| Angle of departure, degrees | 32 |
| Clearance circle without bucket, in (mm) | 57.7 (1466) |
| Clearance circle rear, in (mm) | 67.9 (1725) |
| Overall width, in (mm) | 76 (1930) |
| Ground pressure, PSI (with spec belt) | 4.4 |
| | |
| --- | --- |
| HYDRAULICS SYSTEM |   |
| Pump flow, gpm (Lpm) | 24.2 (91.5) |
| Optional high flow, gpm (Lpm) | 37.6 (142.5) |
| Relief pressure, psi (bar) | 3046 (210) |
| | |
| --- | --- |
| PERFORMANCE |   |
| Rated operating load, 50% tip, lbs (kg) | 3400 (1542) |
| Rated operating load, 35% tip, lbs (kg) | 2380 (1080) |
| Tipping load, lbs (kg) | 6800 (3084) |
| Breakout force, lift cylinder, lbs (kN) | 7760 (34.5) |
| Breakout force, bucket cylinder, lbs (kN) | 8700 (38.7) |
| Operating weight, lbs (kg) | 10000 (4536) |
|   |   |
New Holland C238 Compact Track Loader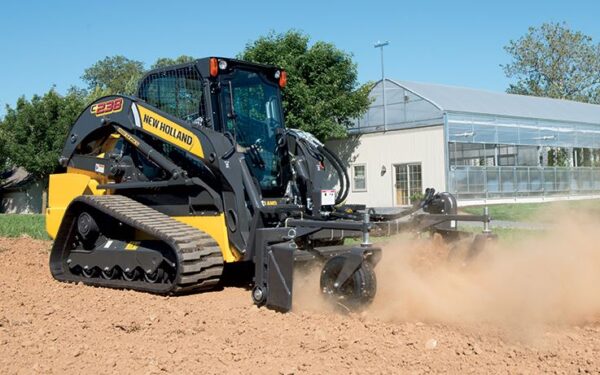 New Holland C238 Price
Price: $89,130 USD (Approx)
New Holland C238 Compact Track Loader Key Features
Horsepower per SAE J1349 Net hp (kW): 84 (63) @ 2,500 rpm
Pump flow, gpm (Lpm): 24.2 (91.5)
Operating weight, lbs (kg): 10100 (4581)
New Holland C238 Specs
ENGINE
Manufacturer/model

FPT / F5BFL413E*B002

Bore/stroke, in (mm)

3.9 x 4.3 (99 x 110)

Displacement, in3 (L)

207 (3.4)

Fuel injection

HPCR Direct

Air intake

Turbocharged Aftercooled with external EGR

Horsepower per SAE J1349 Gross hp (kW)

90 (67) @ 2500 rpm

Horsepower per SAE J1349 Net hp (kW)

84 (63) @ 2500 rpm

Peak torque, lb-ft (Nm)

282 (383) @ 1400 rpm
POWERTRAIN
Travel speed, low range, mph (km/h)

5.1 (8.2)

Travel speed, high range (optional), mph (km/h)

7.6 (12.2)
DIMENSIONS
Bucket hinge pin, in (mm)

131.1 (3330)

Top of ROPS, in (mm)

80.4 (2043)

Bottom of level bucket, fully raised, in (mm)

124.2 (3155)

Overall length without attachment with coupler, in (mm)

118.9 (3021)

Dump angle, degrees

54.7

Dump reach (max height), in (mm)

34.4 (875)

Rollback, bucket on ground, degrees

32.8

Rollback, bucket at full height, degrees

84.8

Track on ground, in (mm)

64.5 (1639)

Ground clearance (bottom of belly pan), in (mm)

9.5 (243)

Angle of departure, degrees

32

Clearance circle without bucket, in (mm)

56.2 (1428)

Clearance circle rear, in (mm)

71.2 (1809)

Overall width, in (mm)

76 (1930)

Ground pressure, PSI (with spec belt)

4.6
HYDRAULIC SYSTEM
Pump flow, gpm (Lpm)

24.2 (91.5)

Optional high flow, gpm (Lpm)

37.6 (142.5)

Relief pressure, psi (bar)

3046 (210)
PERFORMANCE
Rated operating load, 50% tip, lbs (kg)

3800 (1723)

Rated operating load, 35% tip, lbs (kg)

2660 (1209)

Tipping load, lbs (kg)

7600 (3447)

Breakout force, lift cylinder, lbs (kN)

6110 (27.2)

Breakout force, bucket cylinder, lbs (kN)

7360 (32.7)

Operating weight, lbs (kg)

10100 (4581)

 

 
That was all about the New Holland Compact Track Loaders. I hope you like this article because all kinds of information are genuine and reliable and it is very useful to you. But if you have any queries regarding this article then, please let me know through the comment, and Stay tuned to me for more new stuff like this. Thanks for visiting our site