Mahindra Tippers Blazo Price List in India 2023
Hello, guys!! Welcome to my site. Are you searching online terms like Mahindra Blazo Tippers Price List, Key Features, And Technical Specifications? If yes and you are searching on the Internet for such terms, then you have been placed on the right web page.
Cause here in this article of mine, I will be telling you everything you need to know about the Mahindra Blazo Tippers Construction Equipment. I assure that all kinds of information are reliable and genuine, it is very helpful for you to buy or sells this model Mahindra Blazo Tippers.
I will tell you each and everything related to this Mahindra Blazo Tippers Construction Equipment Price List which you should know about it. Ok, so let's start it.
You May Like To Check:
Mahindra Blazo 25 BSIV Tipper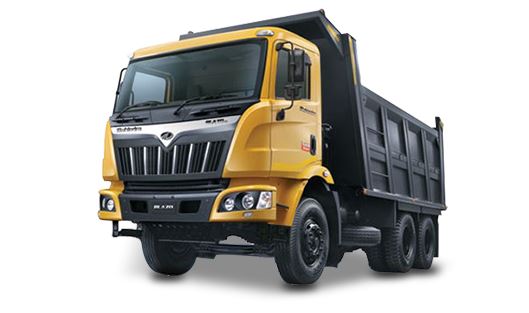 Mahindra Blazo 25 BSIV Tipper Price in India
Price: Rs. 31,43,000
Mahindra Blazo 25 BSIV Tipper Features
Driver Information System

Next-Gen features and improved cabin for better productivity

7.2 litre, high torque, low RPM engine

mPOWER FuelSmart engine with multimode switches

Guaranteed better fuel efficiency
Mahindra Blazo 25 BSIV Tipper Specifications
 

GVW

25000 kg

Engine

mPOWER 7.2 ltr FuelSmart

Max Power

274 HP @ 2200 RPM

Max Torque

950 Nm @ 1100 – 1700 RPM

Gear Box

Eaton 9 Speed Gear Box

Gradeability

(RAR: 6.17) 44.0%

Clutch

395 mm Diaphragm type, Single plate dry clutch

Suspension – Front

Semi Elliptical Leaf Spring with shock absorber

Suspension – Rear

Inverted leaf Bogie Suspension

Rear Axle

RAR: 4.88 . Optional: 6.17 Tandem Banjo Type Single Reduction

Tyres

1Optional: 11 R 20 – 16 PR (Radial) & 11 x 20 – 18PR (Mining) 11.00 X 20 – 16PR

Fuel Tank Capacity

250 ltr

Chassis Cross Section

285 X 70 X 8.5 with full length 5 mm reinforcement

Max Speed

60 km/hr (With Speed Limiter)

Steering

Hydraulic power assisted tilt & telescopic

Brakes

Full Air S Cam Dual circuit Pneumatic Brake, 10 Bar system, ABS

System Voltage

24V (2×12)

Wheelbase

4250 mm

Cabin

(AC Optional) Day Cab

Min Ground Clearance

250 mm

Tipping Body Size

16 Cum Box Body & 14 Cum Rock Body

 

 
Mahindra Blazo 25 BSIV Tipper & Transit Mixer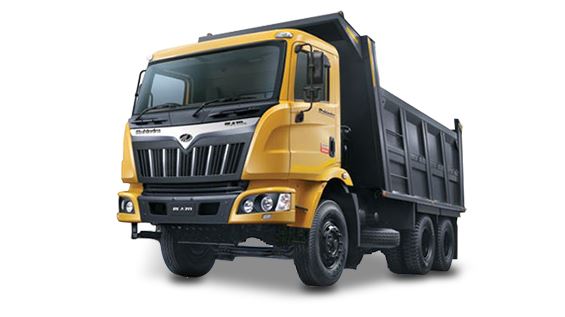 Mahindra Blazo 25 BSIV Tipper & Transit Mixer Price
Price: Rs. 23,31,000
Mahindra Blazo 25 BSIV Tipper & Transit Mixer Features
Driver Information System

Next-Gen features and improved cabin for better productivity

7.2 litre, high torque, low RPM engine

mPOWER FuelSmart engine with multimode switches

Guaranteed better fuel efficiency
Mahindra Blazo 25 BSIV Tipper & Transit Mixer Specifications
 

 

GVW

25000 kg

Engine

mPOWER 7.2 ltr FuelSmart

Max Power

274 HP @ 2200 RPM

Max Torque

950 Nm @ 1100 – 1700 RPM

Gear Box

Eaton 6 Speed Gear Box

gradeability

28%

Clutch

395 mm Diaphragm type, Single plate dry clutch

Suspension – Front

Semi Elliptical Leaf Spring with shock absorber




Bell Crank Type Suspension

Suspension – Rear

Optional: Inverted Leaf Bogie Suspension

Rear Axle

RAR: 4.88 Tandem Banjo Type Single Reduction

 

 
Mahindra BLAZO 31 8X4 Tipper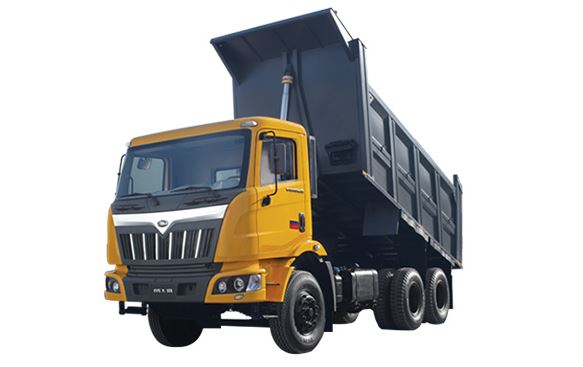 Mahindra BLAZO 31 8X4 Tipper Price
Price: ₹49.88 – ₹52.00 Lakh*
Mahindra BLAZO 31 8X4 Tipper Features
Next-Gen features and improved cabin for better productivity

Better payload capacity

7.2 litre, high torque, low RPM engine

mPOWER FuelSmart engine with multimode switches

Guaranteed better fuel efficiency

Driver Information System
Mahindra BLAZO 31 8X4 Tipper Specifications
Key Specs
Model

BLAZO 31

GVW

31000 Kg

Engine

m-Power 7.2 litre, TCIC BSIV

Max Power

274 hp @ 2200 rpm

Max Torque

950Nm @ 1050 rpm

Gearbox

Eaton 9 Speed Gear Box Manual Synchromesh, 8 forward, 1 Crawler & 1 Reverse Optional: 6 Speed Gear Box.

Gredeability

24% (With 6S) / 35% (With 9S)

Clutch

395 mm Diaphragm type, Single Plate Dry clutch

Chassis Frame

285 x 70 x 8.5 mm with 5 mm full length reinforcement

Steering

Hydraulic power assisted tilt & telescopic

Brakes

Full Air S Cam Dual circuit Pneumatic Brake, 10 Bar system with ABS

Fuel Tank

250 Ltr

Wheel & Tyres

10 x 20 – 16 PR

System Voltage

24 V (12X2)

Wheel Base

5300 mm

Cabin

Day Cab (AC optional)

Rear Axle

RAR: 4.88. Tandem Banjo Type Single Reduction

Min ground clearance

250 mm

Tipping Body Size

18 Cum Box Body
Dimension

Overall Length

8796 mm

Overall Width

2595 mm

Overall Height

| | |
| --- | --- |
| Canopy Height | 3403 mm |
| Full Tipping height | 7800 mm |
Body Dimension

Body Size Cum/CFT

18Cum / 636 CFT

External Dimension

7475mm x 2595mm x 1636mm

Internal Dimension

6000mm x 2340mm x 1290mm

Floor Thickness

6mm

Rear & Side wall Thickness

5mm

Canopy Thickness

4mm

Material

BSK 46

 

 
Mahindra BLAZO 31 BSIV Haulage Tipper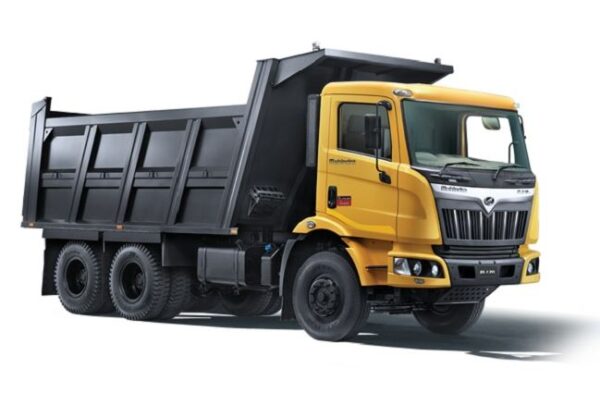 Mahindra BLAZO 31 BSIV Haulage Tipper Price
Price: from ₹ 25.65 lacs
Mahindra BLAZO 31 BSIV Haulage Tipper Features
Driver Information System

Next-Gen features and improved cabin for better productivity

Better payload capacity

7.2 litre, high torque, low RPM engine

mPOWER FuelSmart engine with multimode switches

Guaranteed better fuel efficiency
Mahindra BLAZO 31 BSIV Haulage Tipper Specifications
 

 

GVW

31000 Kg

Engine

mPower 7.2 ltr FuelSmart

Max Power

274 HP @ 2200 RPM

Max Torque

950 Nm @ 1100 – 1700 RPM

Gearbox

Eaton 6 Speed Gear Box

Gredeability

23%

Clutch

395 mm Diaphragm type, Single Plate Dry clutch

Suspension – Front

Semi Elliptical Leaf Springs with shock absorber

Suspension – Rear

Bell Crank Type Suspension

Rear Axle

RAR: 4.88. Banjo Type Single Reduction

Wheel & Tyres

10 R 20 – 16 PR (Radial)

Fuel Tank

250 ltr.

Chassis Frame

285 x 70 x 8.5 mm

Max Speed

60 kmph (with speed limiter)

Steering

Hydraulic Power assisted tilt & telescopic

Brakes

Full Air S Cam Dual Circuit Pneumatic Brake




10 Bar System with ABS

System Voltage

24 V (12 x 2)

Wheel Base

6100 mm

Cabin

Sleeper Cabin (Ac Optional)

Ground clearance

250 mm

Tipping Body Size

18 Cum Box Body

 

 
Mahindra BLAZO 40 Tip Trailer BSIV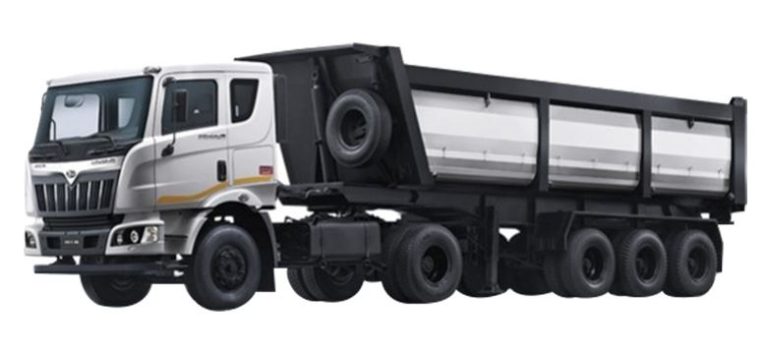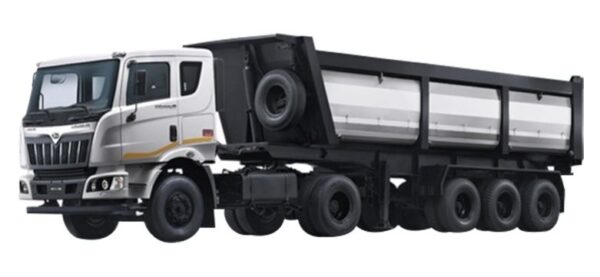 Mahindra BLAZO 40 Tip Trailer BSIV Price
Price: Rs 31.06 Lakh* 
Mahindra BLAZO 40 Tip Trailer BSIV Features
Guaranteed better fuel efficiency

Driver Information System

Next-Gen features and improved cabin for better productivity

Better payload capacity

7.2 litre, high torque, low RPM engine

mPOWER FuelSmart engine with multimode switches
Mahindra BLAZO 40 Tip Trailer BSIV Specifications
| | |
| --- | --- |
|   |   |
| GVW | 40200 kg |
| Engine | mPOWER 7.2 ltr FuelSmart |
| Max Power | 274 HP @ 2200 RPM |
| Max Torque | 950 Nm @ 1200 – 1600 RPM |
| Transmission | Eaton 9S with Crawler |
| Suspension – Front | Semi Elliptical Leaf Spring |
| Suspension – Rear | Semi Elliptical Leaf Spring |
| Rear Axle | Single reduction, fully floating axle shaft |
| Tyres | 11.00R20 16 PR |
| 5th Wheel Dia. (Inch) | 2″ Dia. |
| Fuel Tank Capacity | 350 ltr |
| Ad Blue Tank Capacity | 35 ltr |
| Chassis Cross Section –mm | 285 x 70 x 8.5 |
| Max Speed | 80 km/hr (With Speed Limiter) |
| Gradeability | 27.0% |
| Steering | Tilt & Telescopic Power Steering |
| Brakes | Full Air S Cam, 10 Bar System, ABS |
| System Voltage | 24V (2×12) |
| Wheelbase | 3600 mm |
| Cabin | Single Sleeper |
| HVAC | Optional |
|   |   |
Mahindra BLAZO 49 Tip Trailer BSIV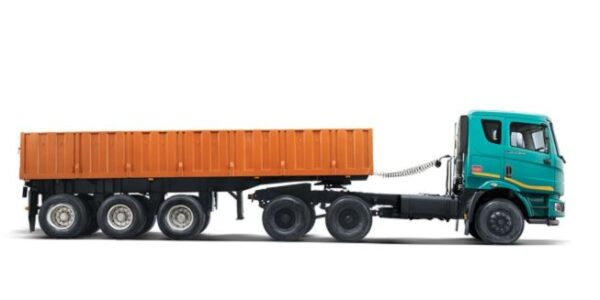 Mahindra BLAZO 49 Tip Trailer BSIV Price
Price: Rs 50.34 Lakh*
Mahindra BLAZO 49 Tip Trailer BSIV Features
Next-Gen features and improved cabin for better productivity

Better payload capacity

7.2 litre, high torque, low RPM engine

mPOWER FuelSmart engine with multimode switches

Guaranteed better fuel efficiency

Driver Information System
Mahindra BLAZO 49 Tip Trailer BSIV Specifications
| | |
| --- | --- |
|   |   |
| GVW | 49000 kg |
| Engine | mPOWER 7.2 ltr FuelSmart |
| Max Power | 274 HP @ 2200 RPM |
| Max Torque | 950 Nm @ 1100-1700 RPM |
| Transmission | ZF 9S with Crawler |
| Suspension – Front | Parabolic Leaf Spring |
| Suspension – Rear | Semi Elliptical leaf spring |
| Rear Axle | Live, Banjo type, Single Reduction, fully floating axle shafts |
| Tyres | 11.00R20 (Optional – 11.00 x 20) |
| 5th Wheel Dia. (Inch) | 2″ Dia. |
| Fuel Tank Capacity | 350 ltr |
| Ad Blue Tank Capacity | 35 ltr |
| Chassis Cross Section – mm | 285 x 70 x 8.5 with 5mm Internal Reinforcement |
| Max Speed | 80 km/hr (With Speed Limiter) |
| Gradeability | 20.7% |
| Steering | Tilt & Telescopic Power Steering |
| Brakes | Full Air S Cam, 10 Bar System, ABS |
| System Voltage | 24V (2×12) |
| Wheelbase | 4100 mm |
| Cabin | Single Sleeper |
| HVAC | Optional |
|   |   |
Mahindra Tipper Customer Service Information
MAHINDRA CORPORATE ADDRESS
Mahindra & Mahindra Ltd.,
Truck and Bus Division,
Marketing Division,
2nd Floor Mahindra Towers,
Worli, Mumbai – 400018
Tel: 020-27473600
Toll Free: 1800-2003600
My friends do you want to know more about the new Mahindra BLAZO, give us a missed call on 1800 315 7799
That was all about the Mahindra Blazo Tippers Price List. I hope you like this article because that all kinds of information are genuine and reliable and it is very useful to you. But if you have any query regarding this article then, please let me know through the comment, and Stay tuned with me for more new stuff like this. Thanks for visiting our site