Kawasaki Jet Ski Ultra 310LX Price, Specs, Top Speed, Features, Images, Overview
This post contains the Kawasaki jet ski ULTRA 310LX Price, Kawasaki ultra 310lx top speed, Kawasaki ultra 310lx review, Kawasaki ultra 310lx for sale, Kawasaki ultra 310lx 0-60.
I hope it is useful to you my friends, cause we assure you, that all kinds of information are genuine and reliable, you don't need to go anywhere after visiting our site. Ok so, let's start it.
The Kawasaki Jet Ski Ultra 310LX is the most powerful personal watercraft in the world. Period. It's also one of the most advanced, with a Deep-V hull that gives outstanding performance in rough water for racing-like agility and the exclusive JET SOUND audio system.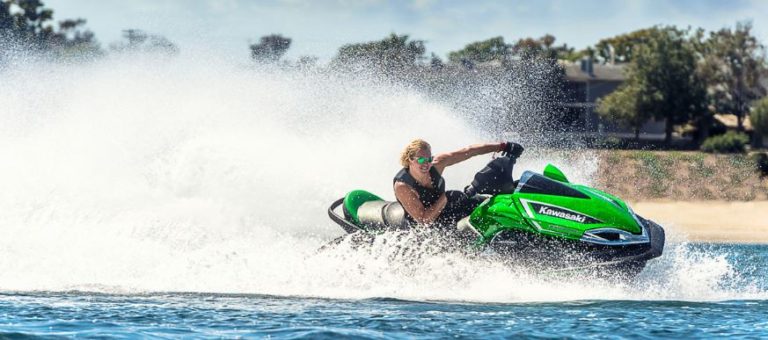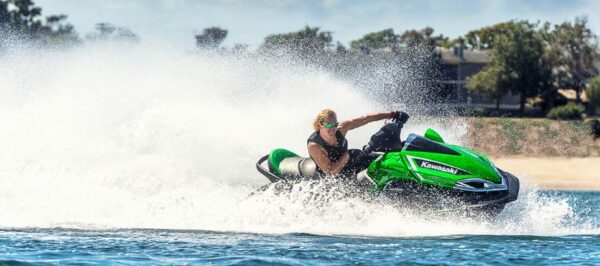 Also Check: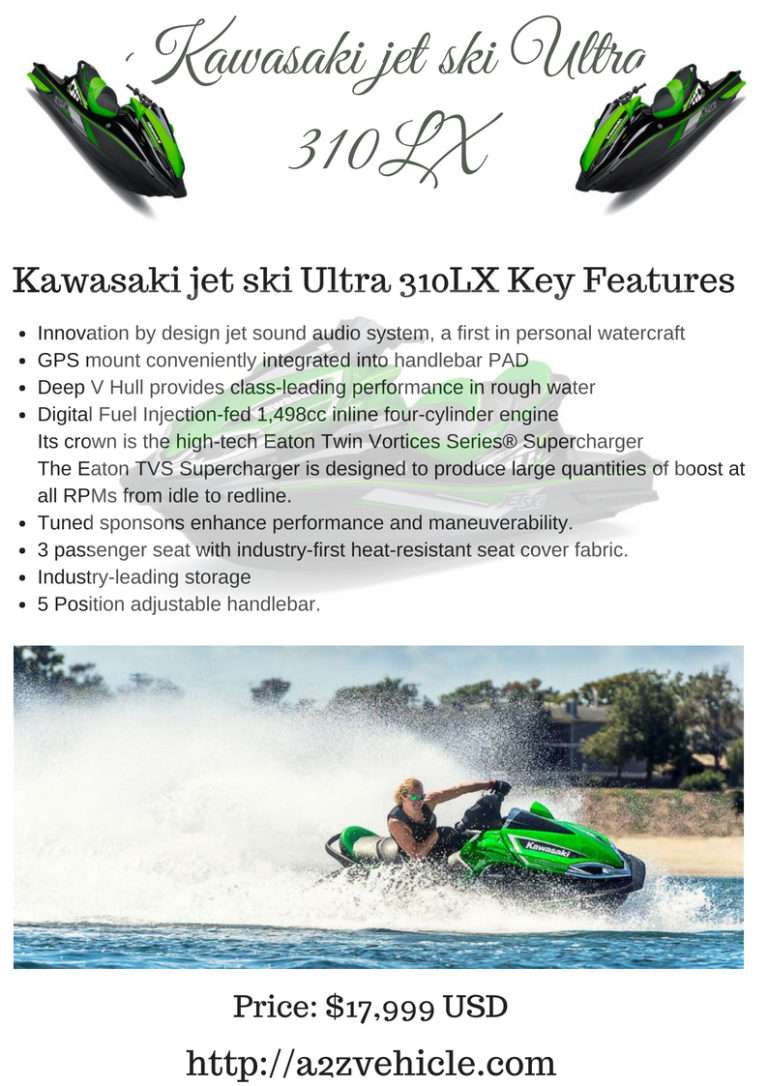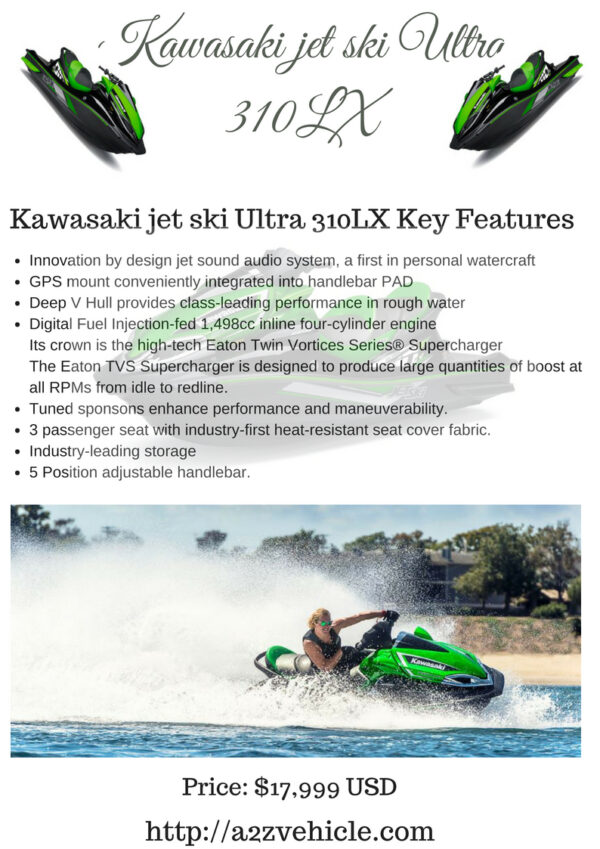 Kawasaki jet ski Ultra 310LX Price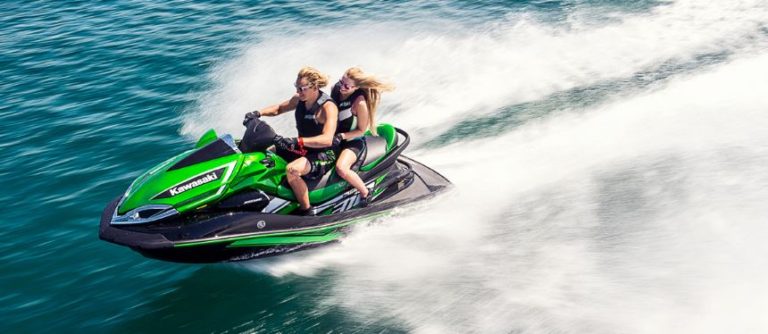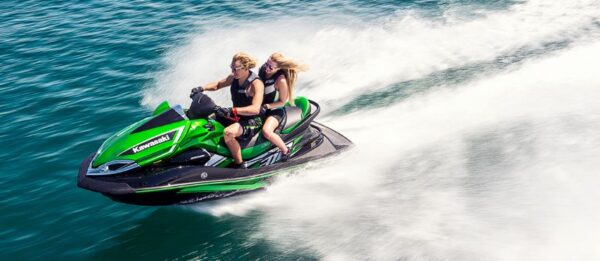 New Price:  $19,199 MSRP
Kawasaki jet ski Ultra 310LX Key Features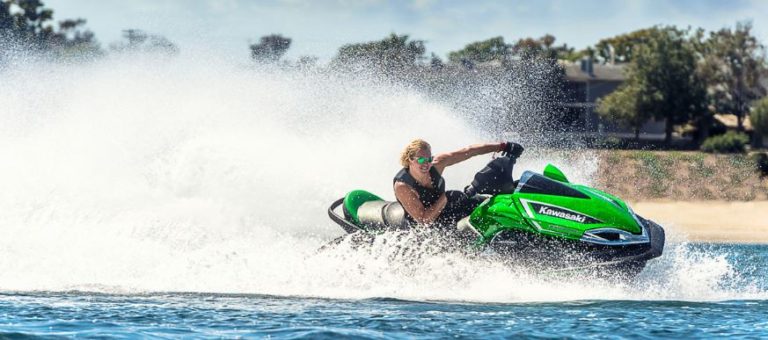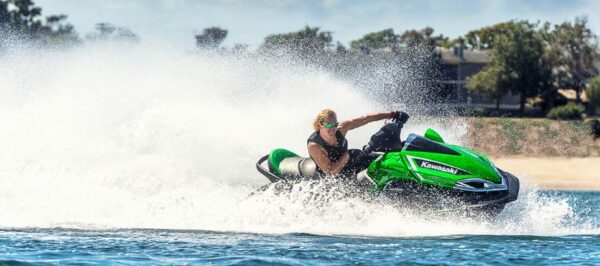 Digital Fuel Injection-fed 1,498cc inline four-cylinder engine

Its crown is the high-tech Eaton Twin Vortices Series® Supercharger

The Eaton TVS Supercharger is designed to produce large quantities of boost at all RPMs from idle to redline.

Innovation by design jet sound audio system, a first in personal watercraft

GPS mount conveniently integrated into handlebar PAD

Deep V Hull provides class-leading performance in rough water

Tuned sponsons enhance performance and maneuverability.

3 passenger seat with industry-first heat-resistant seat cover fabric.

Industry-leading storage

5 Position adjustable handlebar.
Kawasaki jet ski Ultra 310LX Specs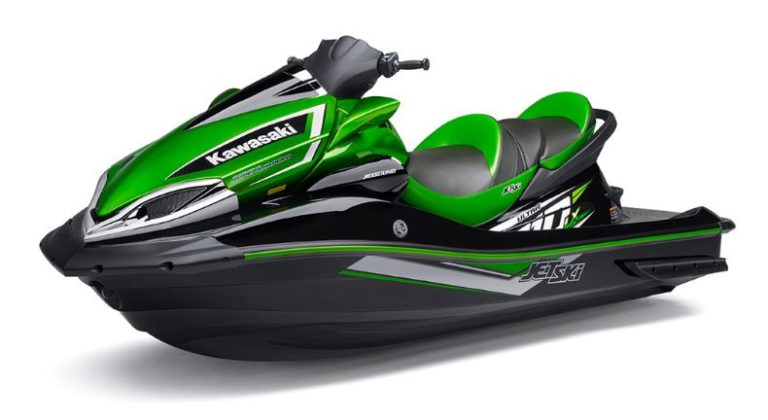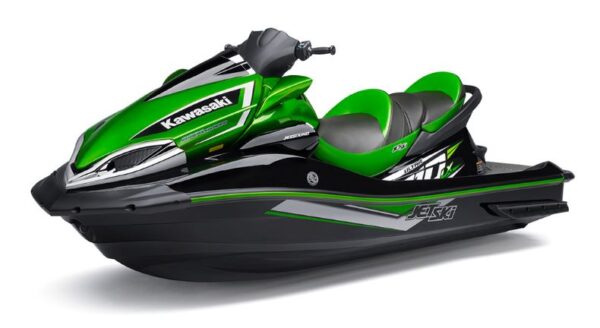 POWER
Engine

 Supercharged and intercooled, 4-stroke, DOHC, four valves per cylinder, inline 4-cylinder

Displacement

 1,498cc

Bore x Stroke

 83.0 x 69.2mm

Compression ratio

 8.2:1

Induction

 Eaton Twin Vortices Series Roots-type supercharger with air-to-water intercoole

Maximum Boost

 16.8 psi

Cooling System

 Inducted water

Fuel System
 DFI

®

 with 60mm throttle body
Ignition

 TCBI with digital advance

Starting System

 Electric

Propulsion System

 160mm jet pump, axial-flow, single stage

Impeller

 3-blade, oval-edge stainless steel

Thrust

 1890 lbSemi-dry sump system

PERFORMANCE
Lubrication

 Semi-dry sump system

Coupling

 Direct drive from engine

Oil Capacity

 5.8 qt

Fuel Capacity

 20.6 gal

Load Capacity

 496 lb

Storage Capacity

 56.0 gal

OTHER DETAILS
Overall Length

 132.7 in

Overall Width

 47.0 in

Overall Height

 49.4 in

Curb Weight

 1073.8 lb**

Seating Capacity

 3

Color Choices

 Ebony/Candy Lime Green

Warranty

 12 Month Limited Warranty

Kawasaki Protection Plus™ (optional)

 12, 24, 36, or 48 months

 
My friends, Thanks for visiting our site but if you have any problem regarding this article, then please comment on us we will solve your problem as soon as possible. Please stay tuned to our site for new more updates.