Cute Car Names – What's not to like about a car with a bit of individuality? Some are stylish and quiet, while others enthusiastically race through the streets and show their presence.
Naming a car is an excellent method to enhance its appearance and its mechanical appeal, but it's much more than it is.
Naming the car you drive daily gives you a more personal way to refer to the vehicle in conversations and become more familiar with it as you drive.
If you name your car, it is a way to delight yourself in its ownership. It makes you feel like you are part of a ring every time you take to the road.
Some individuals choose to name their vehicle immediately after purchasing it; however, giving yourself a couple of days to learn about the new car and the unique features that make it different before committing anything is also an excellent option.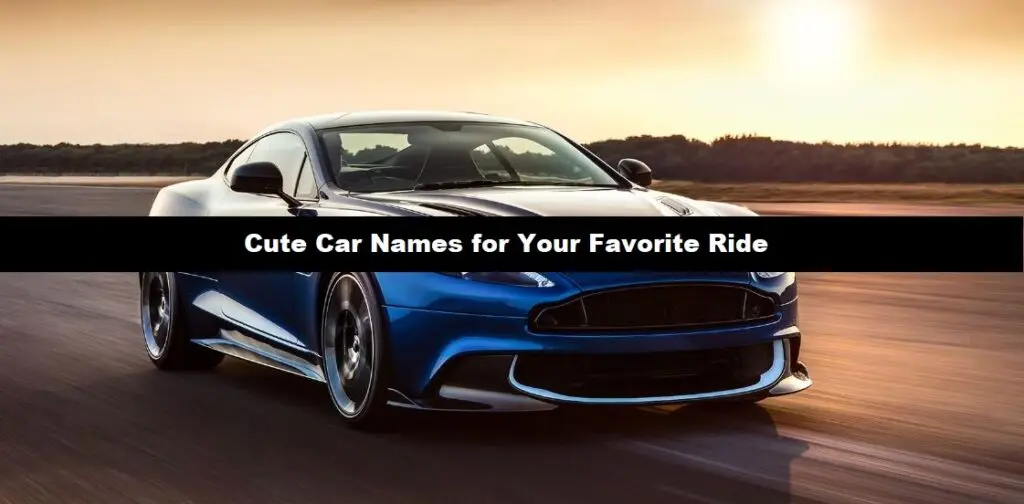 100 + Cute Car Names
Bonbon

Lovebug

Poky

Zippy

Pip

Bop

Buffie

Itsy

Jelly Bean

Buggy

Pixel

Toto

Pebble

Speck

Bumblebee

Waggy

Lucky

Charlie

Royce

Buster

Bolt

Sonic

Rusty

Uno

Herbie

Lemon

Clio

Astro

Bambi

Boo
Names based on Car color
Sugar

Frosty

Ecto

Mayo

Misty

Blanco

Fluffy

Moby

Lily

Snowy
Cute names for blue/purple cars:
Dory

Sky

Bluebell

Baloo

Gonzo

Smurf

Berry

Denim

Aqua

Sully
Cute car names for black cars:
Spooky

Spike

Drogo

Zorro

Blitz

Friday

Draco

Fury

Nitro

Soot
Names for cute silver/Grey cars:
Grayson

Cloud

Stormzy

Steely

Shiny

Wolfie

Smokey

Grey Goose

Whiskers

Needle
Cute red/orange car names:
Cherry

Rosie

Ruby

Foxy

Blaze

Mario

Berry

Flamo

Amber

Dawn
Cute girl car names for your ride
Evie

Candie

Lizzy

Lexie

Nova

Ellie

Lola

Daisy

Callie

Gigi

Minnie

Dotty

Bessy

Gina

Coco

Cookie

Molly

Kitty

Betty

Ivy
You May Also Like To Check: