1-800-GOT-JUNK Prices Review, Near Me Locations
1-800-GOT-JUNK is a Canadian franchised residential and commercial junk removal company operating in the USA, Canada, and Australia.
The 1-800-GOT-JUNK company's business model takes junk or trash haulage and provides it with a "clean" image through branding and marketing.
1-800-GOT-JUNK is a well-known junk removal service which helps get rid of the items you'd like to get rid of and do it environmentally and sustainably.
It's an excellent solution to organize and clean your life, whether you are planning to move or need to tidy your home.
When you go through or organize your belongings, it is possible to clean your home room-by-room and then decide if you want to dispose of the clutter or give it away.
Please leave it to 1-800-GOT-JUNK to come to your door and finish the task for you.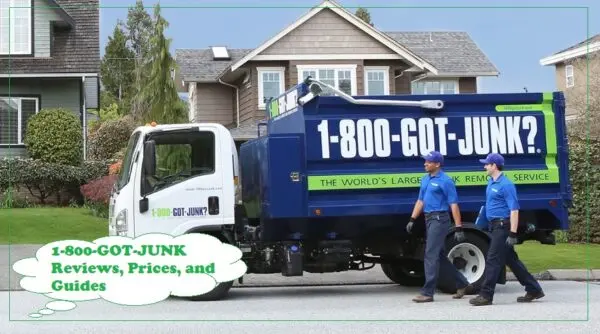 How 1-800-GOT-JUNK Works?
1-800-GOT-JUNK is an all-inclusive junk removal service that operates via around 200 franchises across Canada, North America, and Australia. The founder and Chief Executive Officer Brian Scudamore, started the company in 1989.
Since its inception, it has evolved into the world's biggest professional junk removal business. It's a simple junk removal business with the highest priority on the environment.
To clear out your clutter using 1-800-GOT-JUNK, start by making an appointment:
Create a pile of everything you would like to dispose of.

Visit the 1-800-GOT-JUNK website. Select the country of the source from the dropdown menu on the right side of the page.

Input your ZIP code in the prominent box and then check whether there is an area-specific franchise.

Make a list of the most important things in your junk pile. Pick a time and date to pick up the items. Select a time of 2 hours that is possible in the morning, after-hours or the evening. Include your address and contact information. It is also important to indicate the type of pickup you want to use, whether residential or business pickup.

Check your contact details as well as confirm your pickup.
What 1-800-GOTJUNK picks up?
1-800-GOTJUNK is a full-service recycling company that will take anything so long as it's not a dangerous material and can be carried by two crew members onto their trucks. The company provides a full range of trash removal services for commercial and residential customers.
What 1-800-GOT JUNK will pick up?
As you can see from the lengthy list of junk items 1-800-GOTJUNK takes, household items are adequately covered. It is also possible to utilize the service to help you remove yard trash. According to their website, televisions, monitors for computers, refrigerators, mattresses, and mattresses are among the popular items that can be recycled.
Some of the daily items 1-800-GOT-JUNK can offer include:
Electronics (E-waste)

Renovation and waste

Furniture

Household waste

Tires and rubber

Appliances

Bicycles

Carpets and rug
1-800-GOT-JUNK also operates as a debris removal service that can manage enormous piles of construction debris.
Call them to answer your questions on any item you throw away.
What 1-800-GOT-JUNK will not pick up?
Any hazardous material (chemicals, oil drums, asbestos, or paint).

Items too large for two men to lift and transport to their trucks.

Construction materials that could cause harm.

Older cars (a partner company may be able to provide that).
How much does 1-800-GOT-JUNK cost?
The rates for 1-800-GOT-JUNK generally vary from $100 to $950, as per HomeAdvisor. This is comparable to the average range for other rubbish removal businesses at a national level, between $133 and $360. However, the costs will depend on the amount of trash you've got and where you reside.
Yet, 1-800-GOT-JUNK says, "Before we can provide you with an exact price, we must see what you have in your possession personally."
1-800-GOTJUNK prices are based on space for junk items in the truck. For you to get an idea of the truck's size, the truck can accommodate eight stand-up refrigerators that are full size (which have a total length of 10 feet with 8 feet of width and 5 feet tall).
The minimum cost is usually 1/8th of the truck's weight. However, there are other options:
1/4 full

Half full

3/4 full

Full truckload

Single items
To put it in more detail, the cost of 1-800-GOT-JUNK is based on various factors, including the amount and type of trash. It also fluctuates with the cost of gas and the location and accessibility of your home.
The best part is that there aren't any costs that aren't disclosed or unclear. After 1-800-GOTJUNK looks at your items and offers you a quote that is certain to be the price you be charged. If you aren't satisfied with the price offered when you first start the task, there's no obligation to take action.
It's simple to make a couple of inquiries and compare rates offered in your community. Doing your homework and asking around can also reveal the level of service provided by your local 1-800-GOTJUNK agency.
what is the minimum price for 1-800-got-junk?
The minimum price you should expect to spend is $129, while the maximum price is around $600 for an entire truck's worth of junk.
Where does 1-800-GOT-JUNK take my junk?
If you approve, the custom-built truck will show up at your door, and blue-clad employees will go through your belongings before removing them.
And where does it all go? Can the haul aid you in reducing your carbon footprint?
As per their website, the garbage location is determined by the type of junk. Certain items are transported to a transfer station, and others are sent to the dump.
The principle is to recycle, reuse and resell or donate. This helps reduce the number of landfills and reduces waste disposal. 1-800-GOTJUNK has connections with landfills, recycling facilities, incinerators, charities, and landfills.
All franchises at 1-800-GOTJUNK collaborate with local charitable organizations and international organizations such as The Salvation Army, Goodwill, and Habitat for Humanity.
1-800-GOT-JUNK reviews
Reviews for 1-800-GOTJUNK are generally favourable; however, it's important to remember that 1-800-GOTJUNK is a franchise-based business model. Thus, customer experience can differ in different locations.
Reviewers on Facebook rate the company 3.9 out of five stars.

Yelp, Better Business Bureau and other reviews are different depending on the franchise's location.
1-800-GOT-JUNK Advantages and Disadvantages
Employing an experienced junk removal service can be an enormous time-saver, particularly when moving your home.
Consider your decision to use several lenses before weighing the advantages and disadvantages.
The benefits of using 1-800-GOT-JUNK
1-800-GOT-JUNK is an excellent option for cleaning up when you're short on time before your move or have no DIY experience.

There is no need to worry about security concerns about heavy garbage because the removal crews are professionally skilled and knowledgeable.

It's a cost-effective and efficient method of decluttering your home with its dedication to affordable costs.

Environmental sustainability can be found at the core of the business's strategy. 1-800-GOT-JUNK strives to reuse or sell items, give away items in good condition, and reuse items when possible.

The team is certified and certified to take care of your garbage.

1-800-GOT-JUNK is a frequent source of promotions and coupons.
The disadvantages of 1-800-GOTJUNK
It might not be inexpensive because experts take care of your unwanted objects, and the garbage goes through various disposal phases.

1-800-GOT-JUNK charges you for junk based on the quantity used by their trucks. This may not be the best option for you if you have enormous junk that requires clearing.
1-800-GOT-JUNK Customer Service
Call: 24/7 Customer Service

1-800-468-5865
Official Website: www.1800gotjunk.com/us_en
Social Media
1-800-GOT-JUNK Near Me Locations