Yamaha EX Deluxe Waverunner Water Craft Overview
Welcome to our site friends!! and as usual, I am your Water craft Guide come friends here. Today here in this article of mine, I am going to present the Yamaha EX Deluxe Waverunner, Jet Ski information such as Price list, Technical specification, Key Features, Top Speed, Review, Video, and Images. So get set ready for that My friends.
Yamaha EX Deluxe Waverunner Key Facts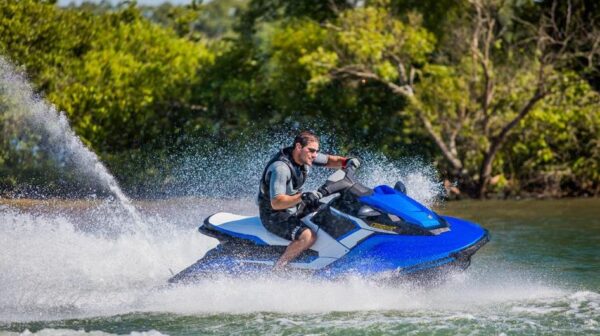 Seating Capacity: 1-3 persons
Engine Type: 3-cylinder, 4-stroke TR-1 Yamaha Marine Engine
Fuel Capacity: 13.2 gal
Length: 10′ 3″
Dry Weight: 599 lbs
Yamaha EX Deluxe Waverunner Price
Price Starting At: $8,599 USD
Yamaha EX Deluxe Waverunner Key Features
TR 1 Engine:
This award-winning, lightweight 3-cylinder engine brings a fun ride with maximum fuel economy.
Ride:
Drivers switch from forward to neutral to reverse with one pull of the throttle resulting in easier deceleration, reversing and docking.
Storage:
The EX Series offers more storage options than comparably-priced PWC.
Hydro-Turf mats:
Lightweight, slip-resistant Hydro-Turf® mats provide superior traction on the extended swim platform and footwells.
Reboarding Step:
Designed to make it easier to reboard after a swim. Conveniently tucks away when not in use.
Reboarding handle:
Works in tandem with the reboarding step.
Yamaha EX Deluxe Specifications
HULL + DECK
Available Colors
Azure Blue Metallic or Silver Metallic with Torch Red Metallic
Rider Capacity
1-3 persons
Length
10′ 3″
Width
3′ 7″
Height
3′ 9″
Dry Weight
599 lbs
Fuel Capacity
13.2 gal
Storage Capacity
7.7 gal
SMC – Sheet Molded Compound
Yes
ENGINE
Displacement
1049CC
Engine Type
3-cylinder, 4-stroke TR-1 Yamaha Marine Engine
Pump Type
144mm High-pressure
Fuel Type Recommended
Regular Unleaded
Yamaha EX Deluxe Top Speed and Review Video
Hope you guy like this post, but if you have any problem regarding this post, then please let know through the comment, I will solve it as soon as possible, thanks for reading this article, and please stay tuned with me for new stuff like this.