Case 770 Backhoe Loader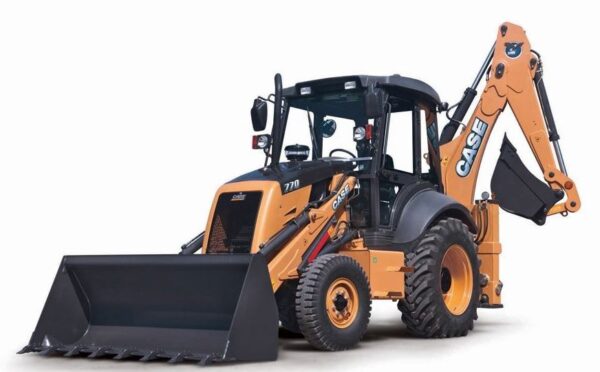 Today here in this article, I am going to share with you Case 770 Backhoe Loader Construction equipment information Like that price in India, key features, technical full specifications and more. I assure that all kinds of information are genuine and reliable, I hope it is very helpful to you for buy or sells this Case 770 Backhoe Loader.
Also Check: Mahindra Backhoe Loader Price
Case 770 Backhoe Loader Key Features
Engine: 4 Stoke, Turbocharged Water Cooled, Diesel Engine
Lift Capacity @Max. height: 3425 kg
Max. Payload: 1760 kg
No. of cylinder:  4Cylinders, Inline
Displacement: 4160 cc
Gross power: 76 hp
Steering:  Hydraulic actuation with independent Hydraulic Circuit
Case 770 Backhoe Loader Optional Equipment
Rockbreaker
Lifting arrangement
Bottom dump bucket
Ripper Tooth
Backfill blade
Heavy duty tyres -14X25 – 20 PR
Dozer blade
Case 770 Backhoe Loader Attachments
Auger
Multitine grab
Clamshell
Case 770 Backhoe Loader Price in India
Rs. 10 Lakh (Above)
Case Backhoe Loader 770 Specifications
ENGINE
Make
Kirloskar Oil Engines Ltd.
Mode
4R1040TC BS-III
No. of Cylinders
4Cylinders, Inline
Displacement
4160 cc
Type
4 Stoke, Turbo charged Water Cooled, Diesel Engine
Gross Power
76 hp@2200 RPM as per ISO 3046
Electrical System
12 V DC
Battery
130 Ah rating
Alternator
65 A rated output
TRANSMISSION
Single stage hydrokinetic type torque converter Shuttle ranger with 4 speed synchromesh gearbox.
Travel Speeds with 16.9X28 rear tyres
Gear
Forward/Reverse
1
4.8/5.8
2
7.8/9.3
3
16.6/ Not Recommended
4
29.7/ Not Recommended
AXLES & BRAKES
Front Axle
Heavy Duty oscillating 20 Deg type Steering axle
Rear Axle
Rigid with planetary drives
Wheel Base
2200 mm (2WD) / 2175 mm (4WD)
Tread width
– Front
1880 mm
– Rear
1760 mm
Brakes
Oil immersed wet disc brakes on rear wheels hydraulically actuated
SERVICE REFILL CAPACITIES
Hydraulic system capacity (Main)
142 Litres
Fuel Tank
122 Litres
Engine Coolant Water
18 Litres
Engine Oil
9.5 Litres
Transmission
16 Litres
Axle
22 Litres
STEERING
Steering
Hydraulic actuation with independent Hydraulic Circuit
Steering Gear Pump Max. output @2200 RPM
22 LPM
Turning Radius with brake
3217 mm Outside Tyre
Turning Radius without brake
4488 mm Outside Tyre
Turning Radius without brake
5500 mm Outside Bucket
HYDRAULIC SYSTEM
Gear Pump Max. output @2200 RPM
123 LPM
System Pressure
190 Bar
BACKHOE
Max. reach from a centre line of machine
Side Shift
6126 mm
Swing arc
180 Deg
Bucket Rotation
204 Deg
Loading reach at max. height
2357 mm
Max. height
5386 mm
Max. dump height
3550 mm
Max. reach from pivot @ ground level
5582 mm
Max. dig depth
4335 mm
Max. lift capacity (No bucket fitted as per SAE J31)
1315 kgs
Breakout force
Dipper
3725 kgf
Bucket
5093 kgf
OVERALL DIMENSIONS AND WEIGHTS
Overall operating weight
7500 kgs
Ground clearance
333 mm
Overall width of side shift machine for transport
2320 mm
Overall height, transport position
3887 mm
Overall length transport position with standard Bucket without teeth
5884 mm
BOTTOM DUMP BUCKET
This multipurpose bucket is ideal for digging, loading, dozing, backfi lling, grading and grab operation.
Bucket width Outside
2265 mm
Width of dozer blade
2280 mm
Maximum Clamp Opening
977 mm
Bucket capacity (SAE HEAPED)
1.0 Cu.m
Dump height
2710 mm
LOADER
Bucket reach flat on ground
1518 mm
Grading angle
115 deg
Digging depth bucket flat on ground
39 mm
Dumping angle
43° Deg
Max. Loader Break Out Force
6807 kg
Lift Capacity @Max. height
3425 kg
Max. Payload
1760 kg
Case 770 Backhoe Loader General Dimensions
Buckets
Capacity (SAE L)
Width (mm)
Wt. (kg)
Loader HD
630
1532
230
Loader HD
760
2277
308
Loader GP
900
2277
365
Loader GP
1000
2277
400
Loader coal handling
1200
2277
435
Loader Garbage handling (without teeth)
1500
2277
480
Bull Clam
1000
2300
560
Trenching
80
305
117
Trenching
120
457
141
Trenching
180
610
161
Trenching
260
762
218
Trapezoidal
300
305
200
Ditch Cleaning (without teeth)
300
895
205
So this was all about the Case 770 Backhoe Loader Price, Technical Specifications, and other important details. I hope you got all the information which you were searching for online. And also that you enjoyed reading the article if you have any kind of questions or doubts you can comment below in the comment box. I will respond to you as soon as possible. And thanks for reading, stay tuned to me for more stuff like this.